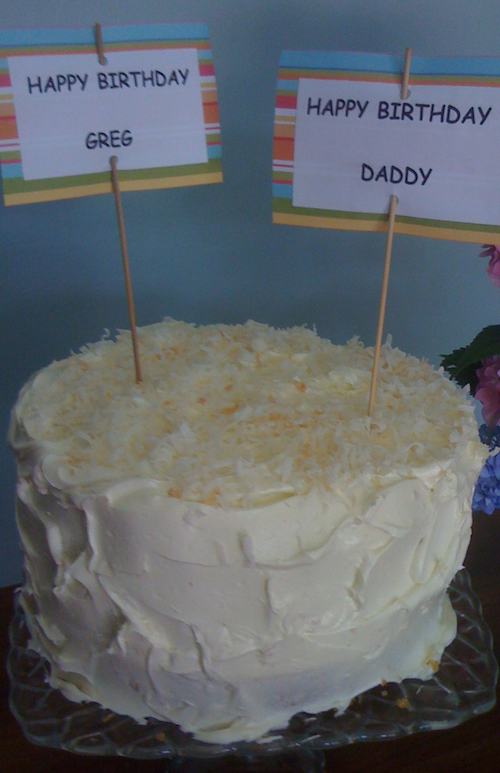 In our house, every day is an occasion for a cake — and this Golden Butter Cake is the perfect choice. By changing up the frosting, we transform this buttery cake from the every day to special occasion!
3 cups cake flour (not self rising)
1 Tbsp baking powder
1/2 tsp salt
1 cup butter or margarine (2 sticks), softened
2 cups sugar
4 large eggs
2 tsp vanilla extract
1 cup milk
Preheat oven to 350 degrees F. Grease three 8-inch round cake pans. Line bottom with waxed paper; grease and flour paper. Or, grease and flour 9-inch tube pan.
In medium bowl, combine flour, baking powder, and salt. In large bowl, with mixer at medium-high speed, beat butter and sugar until light and fluffy, about 5 minutes. Add eggs, one at a time, beating well after each addition. Beat in vanilla. Reduce speed to low; add flour mixture alternately with milk, beginning and ending with flour mixture. Beat just until smooth, scraping bowl with rubber spatula.
Divide batter among prepared cake pans, spread evenly. Place two pans on upper oven rack and one pan on lower oven rack so that pans are not directly above one another. Bake until toothpick inserted in center comes out clean, 23 to 28 minutes for 8-inch layers, or 50 to 55 minutes for tube pan. Cool in pans on wire rack 10 minutes. Run thin knife around layers to loosen from sides of pans. Or, if using fluted tube pan, run tip of knife around edge of cake to loosen. Invert onto racks. Remove waxed paper, cool completely.
Meanwhile, prepare desired frosting. When cooled, frost and enjoy.
Makes 16 servings
Source: The All New Good Housekeeping Cookbook, 2001.

Print Friendly