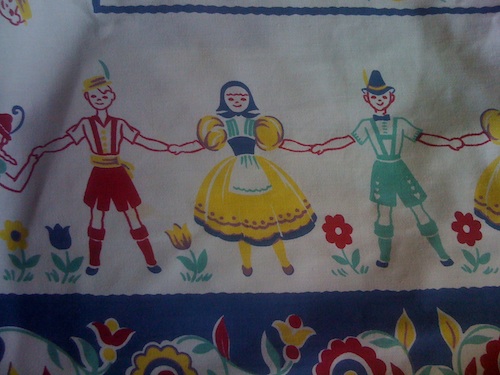 A lot happens around the dinner table. It is where we tell stories, build bonds and create memories. It is also a place where we ensure better nutrition, equip our children with tools to handle life situations, and teach some manners.
Sitting down at the table – for breakfast, lunch or dinner – is a great way to slow down, reconnect with family and friends, and eat more nutritiously. According to the American Dietetic Association, " families who eat together have a stronger bond, and children have high self-confidence, enhanced vocabulary skills and score higher on academic tests." Additionally kids who eat with their families have a better attitude about school, and are less likely to become involved in negative behaviors such as smoking, taking drugs and drinking alcohol. The benefits extend to those without children as well.
Although it isn't always possible, choose at least once a week when the family gathers around the table together for a meal (and, if you live alone, make it a point to get together with friends or family on a weekly basis).
The most important piece of advice I give people is to sit down at a table for dinner and truly connect.  Dinner shouldn't be eaten on the run in a minivan.  It shouldn't be eaten standing up at the kitchen counter or in front of the television.  Studies have shown that children who come fro m families that sit together for dinner are better adjusted emotionally and intellectually.  It is this ritual or tradition that invites human connection.  So, even if it's just once a week, set aside some time to spend with your family.
Our table is truly a gathering place. We draw on it, do our homework, bake together, and of course, eat together. It is one of the most frequently used 'tools' in the kitchen, which is why I like to dress it up from time to time.
Traditionally, the tablecloth was a sign of wealth, but through the ages, its use trickled down to the common folk. The tablecloth is both ornamental and utilitarian, and a great way to add a bit of style and personality to the family gathering at the table.
My grandmother, who lived with us, frequently kept our table covered. She had a collection of everyday and special occasion tablecloths that added a down-home style to it that truly made us feel at home. I have a few of Grandma's in my collection, along with a few of my own. My tablecloths make me happy.
Here are a few of my favorites:
The Retro:A hand-me-down from Grandma, this bright and cheery cloth features children holding hands surrounded by colorful flowers – a perfect everyday cloth that is made even more fun when complemented with my favorite McCoy pottery vase. (see above)
The Formal: A beautifully embroidered cloth that is fitting for nearly any special occasion – from dinner with family to a buffet for 20.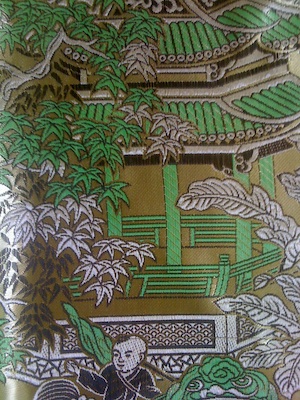 The Ornamental: Not sure I would ever trust anyone, even myself, to eat off this tablecloth. This beautiful silk tablecloth purchased in Thailand, makes an elegant table covering that surely gets guests talking.
The Provencal: Purchased while on vacation at a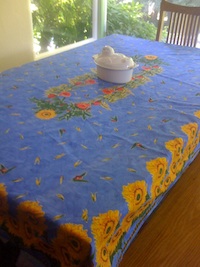 market in Provence, this tablecloth is a favorite for outdoor dining, Durable and beautiful as well, it brings back lots of memories, transporting me to the south of France whether it is used outdoors or in.
The Mexican: Also purchased while on vacation – this time in Mexico – this colorful tablecloth is our go-to tablecloth when we head outdoors for every occasion from picnics on the grass to backyard barbecues. Durable and eye-catching, it makes me want to make a margarita and dance the meringue.
The Amish: Purchased for a rock-bottom price at an antique store in Cleveland, this Amish tablecloth is a great conversation starter, with its collection of Amish-inspired décor,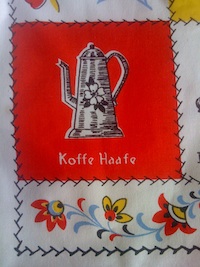 including a  salt box, grinder and butter churn.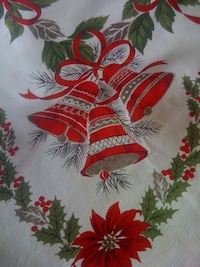 The Holiday: No Christmas would be complete if I didn't pull out Grandma's holiday tablecloth. Decorated with poinsettias, this tablecloth is a traditional favorite for my kids as it was for me many years ago.

Print Friendly