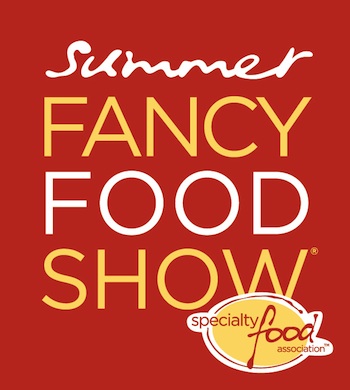 A few weeks ago I found myself in New York at the Summer Fancy Food Show. Everything from artisanal cheeses and chocolates to grilling sauces, crackers, and nearly everything  was on display – and ready for tasting from more than 2,400 foo manufacturers, importers and entrepreneurs. Of the nearly 180,000 showcased, I took the opportunity to taste test some, and here is a few of the notable finds I dug up at the show.
Navitas Naturals is truly The Superfood Company. With a range of organic superfoods from around the world, the company provides functional foods that increase energy and promote health. The newly introduced organic Dragonfruit Slices and the first organic Nori Powder, made from raw premium seaweed grown in the Sea of Japan, are two of the unique superfoods introduced. Also notable is the new organic Coconut Water Powder, which can be used to create a healthy coconut beverage of your choice.
The three Owl's Brew teas crafted for cocktails caught my attention, and captured my taste buds. The delicious blends are tasty when sipped alone, but ultimately crafted for creating drinks. The Coco-Lada is fresh-brewed with black tea, chai spices, pineapple and coconut creating a mixer that is sweet with a spicy kick, rounded out by coconut. Try it with spiced rum, champagne, and vodka. The Pink and Black is a concoction that is made with Darjeeling, strawberries, lemon peel and hibiscus that is delightful with tequila, whisky and vodka. The Naked Arnold is English breakfast tea with lemon peel, and is ideal with vodka, tequila and gin.
Another surprising taste I discovered was the Pok Pok Som drinking vinegars. Popular in many cultures around the world, this beverage a mix of sour and sweet that is a delicious complement to food. Mix it with soda water or use it in cocktails, the tart and sweet bright fruit flavors of the line will jazz up any beverage.  Available in pomegranate, tamarind, honey, apple, pineapple, and raspberry flavors.
If you love seaweed snacks then the new GimMe Teriyaki Organic Roasted Seaweed Snacks will surely satisfy. The first and only seaweed products on the market to be certified organic and non-GMO verified, the line of seaweed snacks are also available in Sea Salt and Sesame flavors in both single serve and family sizes. The new Teriyaki flavor will be available in the fall, so grab yourself some sea salt or sesame flavored snacks until then. Also available are the versatile Roasted Seaweed Crumbles that are seasoned and ready to sprinkle over rice, soups, salads, over popcorn or right out of the bag. Available in cheddar cheese, honey dijon, sesame and teriyaki flavors.
O Orange Blossom Vinegar joins the line of award-winning vinegars that are barrel-aged in the mountains of Sonoma County. The Orange Blossom Vinegar is made by aging gently crushed orange blossoms in sweet California Muscat, and the company's own champagne, one batch at a time. The process captures the sweet aroma of California's citrus groves in bloom. The result is delicate, fresh and drinkable. Drizzle over poached pears or sliced jicama & cucumbers, splash in on grilled fish with lime and soy, or drink it in a summer martini, or mix with mineral water for a sparkling refresher.
Villa de Patos Concentrated Maguey Sap is an organic, natural sweetener that is a 100% raw, non-refined sweetener that is hand extracted, cold evaporated and high pressure processed to extend shelf life. A delicious sweet sap obtained from the maguey plant, a variety of agave native to the arid high lands of Mexico. Use it as your favorite sweetener in yogurt, pancakes, teas, meals, desserts, and also in smoothies.
The new Lotus Foods Heat & Eat Bowls of delicious rice are the perfect way to cook up a serving of whole grain, heirloom rice in just 90 seconds. The nutritious fast food comes in three delicious varieties: Forbidden Rice, an heirloom rice that is prized for its nutritional value, deep purple color and roasted nutty taste; Organic Volcano Rice, an aromatic and nutrient-dense blend of traditional brown and red rice grown on West Java's mineral-rich soil; and Organic Brown Jasmine Rice, a fragrant rice with a rich butter taste and soft texture.
Xocolatti is chocolate reimagined. Using ingredients sourced from across the globe each piece of chocolate is a marriage of quality chocolate and flavors. The Xocolatti Slates add a delicious new dimension to the traditional chocolate bar. Classic nuts and fruits are combined with unusual spices and flavors such as paprika, saffron, and rose petals, creating a uniquely casual way to enjoy Xocolatti. The brittle slates are meant to snapped, cracked and shared. Enjoy the Mango Paprika, Saffron Nut Chikki, Orange Hazelnut, Rose Hip Pistachio, or Masala Milk.
Hella Bitter is an all-natural craft bitters company committed to being the premium alternative to mass-produced and often artificially flavored competitors. Hella Bitter Aromatic Bitters add a complexity and depth to seltzer, cocktails and food recipes. Meticulously handcrafted in Brooklyn, the bitters come in two flavors. Citrus is slightly more concentrated, and more noticeably citrusy than other bitters in its class. Aromatic consists of more intriguing ingredients and stronger flavors to make a bitters that can stand up to the biggest bourbon whiskeys, but is still delicate enough to give subtle support to a gin cocktail. It gets its color from the beet juice that is used to help sweeten it.
Mira Naturals presents Andrean Star Avocado Oil from Ecuador. The cold pressed, 100% natural, extra virgin oil is made by peeling avocados by hand, so no particles of the skin or seeds slip in with the pulp, resulting in a fine, delicate, nutty and delicious avocado oil. The Andean Star has floating stars of avocado tree leafs, which will decorate special dishes, and add aroma to the food. As well, under heat, the stars release their aroma to the food, giving it a special flavor.
Read more about the trends and products from the Summer Fancy Food Show,

Print Friendly