As the warmth of the summer turns to the chills of the fall, we thought it would be a great time to bring to you some of our Favorite Finds from the last few months. This collection of Favorite Finds reflects some great beverage related products that I've gathered while travelling to trade shows and reaching out to companies. We hope you'll be inspired to click on through and try them out yourself.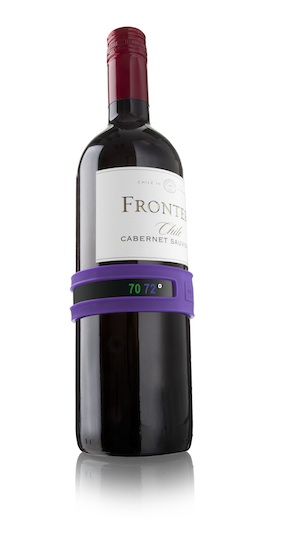 Vacu Vin Snap Thermometer
If you are looking for wine accessories, look no further. Vacu Vin celebrates the 25th anniversary of its world-renowned wine saver, with new simple, smart accessories for wine drinkers. The Snap Thermometer's flexible band slips onto any size bottle. The thermometer shows the temperature of the wine and an index of proper serving temperatures on the back of the band. $10 www.vacuvin.com/
Picardie by Duralex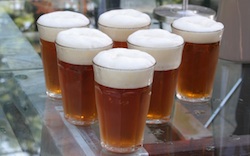 The Picardie glasses from Duralex are functional and stylish, and we love these because they are perfect for everyday and special occasions. Named after the Picardie province in northern France, the heartland of French gothic cathedrals, the 16.9-ounce tempered glasses are suitable for hot or cold drinks, and are conveniently stackable. Microwave- and dishwasher-safe; impact- and chip-resistant; extremely durable; and the perfect weight. Made in France. MSRP: $33 for a set of six www.duralex.com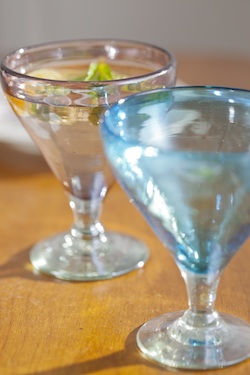 Martini Glasses by Rosanna Inc.
Stylish and sturdy, these handmade, mouth-blown martini glasses from Rosanna Inc. are made from recycled Mexican glass. They are versatile for use when enjoying a merlot, a Manhattan or, of course, a martini. $64, set of four www.rosannainc.com
Alessandro M. Pinocchio Corkscrew by Alessi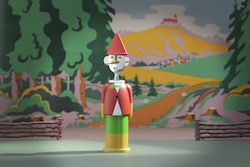 This just makes me smile. The new Limited Edition Alessandro M. Pinocchio Corkscrew from Alessi is a whimsical and fun addition to any wine lover's collection of tools. Why not add a bit of levity to wine drinking, and ask Pinocchio to join in on the celebration? Not only is it fun, but it's functional, too. $105 www.alessi.com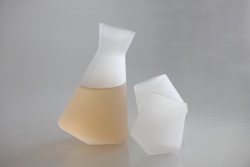 ICE Collection by Sempli
Sempli presents its ICE Collection, with designs that originate from Sempli's stemless Cupa Glass Series, and revamped with a frosted finish. The swirling rotation of the glass is both visually exciting and practical, allowing for aroma to be released into the surroundings, or for wine to oxygenate perfectly. Hand-produced lead-free crystal. Includes three decanters, sake set, wine, rocks and shot glasses. Decanters, $40-$50; Sake set, $77; Vino, $50; Rocks, $50; Shot, $48 www.sempli.com
Spirit by Vinturi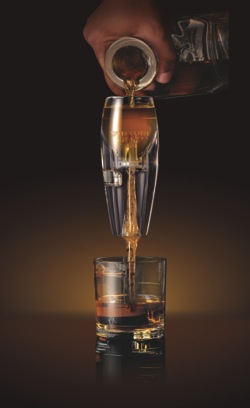 Vinturi Spirit is an innovative bar tool that instantly aerates fine liqueurs and spirits, intensifying the taste experience with every pour. Taste enhancements are widely recognized in numerous undiluted spirits, from single malt scotch to artisanal tequila, and virtually every spirit in between. The Vinturi Spirit replaces the traditional jigger for measuring with markings on the bowl identifying 1-, 1½- and 2-ounce servings, and also comes with a convenient stand. $39.95 www.vinturi.com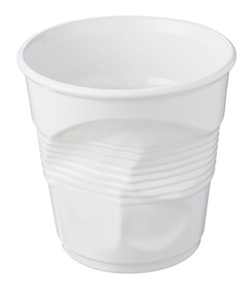 Crumpled Cups By Revol
Great looking and multifunctional too! More than just coffee cups, Revol Crumpled Cups, with their whimsical crumpled plastic cup design, are perfect for baking muffins and cakes, or serving salad, appetizers and even ice cream. Handmade in France, they are made in culinary porcelain so they can be used for many things! Oven and microwave safe, the Crumpled Cups come in 7 different sizes, in various styles. The most poputlar are espresso (2.75 oz) and cappuccino (6oz). $12.99 for espresso cup, and $14.99 for cappuccino. www.revol-porcelaine.fr/en/
Traveler Zita by finum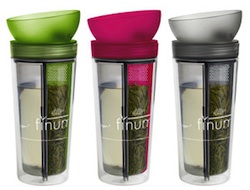 After my morning cup of coffee at my desk, I switch to tea – and often need something to take it with me wherever I'm off to. finum's® multifunctional Traveler Zita ™ is a double-wall tumbler for cold and hot drinks. The exceptional and appealing look is largely owed to its lid, which resembles a tea cup. This durable and elegant tumbler is made from BpA-free Tritan™. By simply screwing the lid on the tumbler the tea leaves are trapped, thereby controlling the brewing of the tea and keeping its taste uncompromised. $24.95 www.finum.com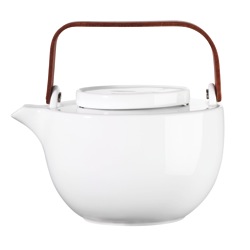 Chava Tea Pot by ASA Selection
This stylish Chava Tea Pot from ASA Selection is as beautiful to look at as it is easy to use. Made of white, glossy porcelain and mahogany handle, the teapot is an elegant addition to any tea service while offering great tea steeping properties. The teapot comes with an interior strainer for brewing loose leaf tea, and is available in three sizes – 25, 42, and 75 ounces. MSRP: $69.95 (25 oz); $89.95 (42 oz); $199.95 ( 75 oz) www.asa-selection.com
Aerolatte Grande Frothing Jug by HIC Kitchen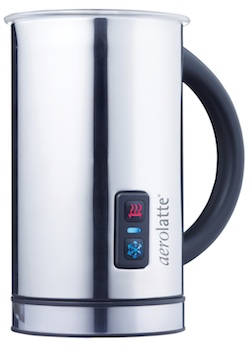 Make a mochaccino in no time flat, or whip up a latte at lightning speed with the Aerolatte Grande Frothing Jug, available from Harold Import Company. This fully automatic appliance is the ultimate accessory for the coffee connoisseur. This electric jug heats and the spiral frothing head whisks milk to a frothy foam for topping coffee drinks, makes cold milk foam, and can even make milkshakes! Comes with a convenient paddle attachment for mixing milk drinks, and large 16 oz. capacity. 129.99 www.Haroldimport.com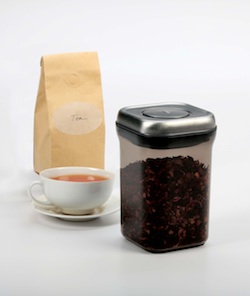 Good Grips Coffee POP Containers By OXO
The Good Grips Coffee and Tea POP Containers  from OXO combine airtight, stackable and space-efficient qualities with UV-blocking technology to protect coffee and tea from moisture and light. A push-button mechanism creates an airtight seal with just one touch, and serves as a handle to lift off the lid. Designed for modular stacking. Available in 3 sizes to keep coffee beans, ground coffee, loose leaf tea, or any other UV-sensitive foods fresh. BPA-free. $17.99/0.5-quart; $19.99/1.5-quarts; $22.99/2.4-quarts. www.oxo.com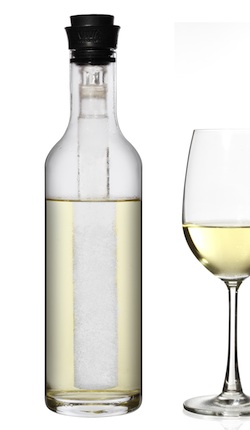 The Perfect Chiller by Viva Scandinavia
Viva Scandinavia introduces the Perfect Chiller, a beverage-chilling set that chills liquids to the perfect drinking temperature in 10 minutes, then maintains it for up to an hour. The wand freezes in three hours, and attaches to the drip-free spout, which is easily inserted into the decanter. Beverage that is not consumed is saved using the stainless steel and silicone stopper. The set includes a chiller wand, a mouth-blown handcrafted glass decanter, drip-free spout and stopper. $49.95 www.vivascandinavia.com
3.2.1. Collection by Kontextür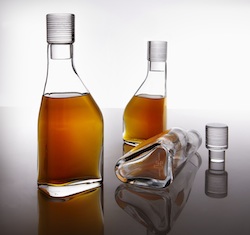 Kontextür introduces its first collection of glassware, the 3.2.1 Collection. The handblown and hand-etched crystal decanter and tumblers have a contemporary feel. The decanters boast a heavy, chunky stopper that is hand-etched with clean, modern detail. The tumblers and drinking glasses, also hand-etched, offer a great feel in the hand. Decanters, $400 (32- and 16-fluid-ounce); Tumblers, $400 (14- and 7-ounce set of four) www.kontextur.com

Print Friendly