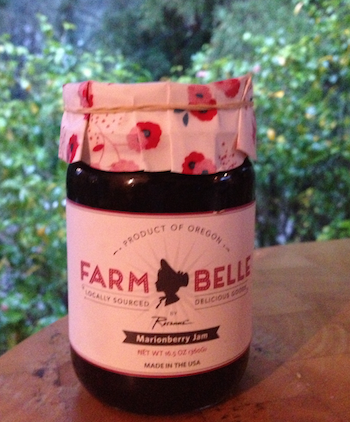 Rosanna Inc. recently introduced the new Farm Belle food line, featuring ingredients sourced from Oregon. Created for the home cook who enjoys distinctive flavors from a specific area/origin, the line includes jams, nuts, syrup and honey.
It's not everyday that I find myself with a jar of marionberry jam in the kitchen, so when I received a jar to try, I had to do a bit of research. Part of the new Farm Belle food line from Rosanna Inc., which is a collection of locally sourced products, I quickly became a fan of the full, sweet flavor of this distinctive berry.
Marionberries are a berry cultivar developed in Oregon. They are named for Marion County, a region where the berries were extensively tested during their early years. They're at their peak of ripeness in July and have a rich ruby-red to almost black color.
The berries are a cross between Chehalem and Ollalieberry cultivars – cultivars which are also hybrids, and are a blending of the features of blackberries and raspberries. Marionberries are delicate (and very juicy), which calls for them to be harvested by hand – and which is why they may cost a bit more.
But, don't let that deter you, as this berry is high in antioxidants, and is a perfect way to add a new berry flavor to your morning scone, after-dinner desserts, and even marinades and glazes.
The day we first opened our jar of Farm Belle Marionberry Jam was a Saturday morning — pancake morning. We opened, the kids smelled, and then immediately spread the jam on their pancakes. They liked it so much, that we had to monitor how much they were piling on top of the pancakes. Eventually I had to cut them off, as I wanted to save some for my baking. I slid the jar into the fridge, behind some leftovers (out of sight of the kids). My plan is to make some Drobni (fruit pastry) with it – I'll let you know how that turns out.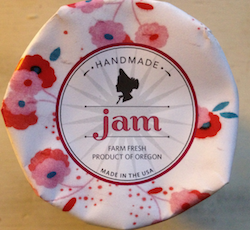 The marionberry jam is one of several available in the Farm Belle line from Rosanna Inc. The line includes Farm Bell Syrup, Raw Infused Honey Crème, Hazelnuts and Jam (blueberry, blackberry, strawberry, marionberry and raspberry). The line is available for purchase on the Rosanna Inc. website.

Print Friendly