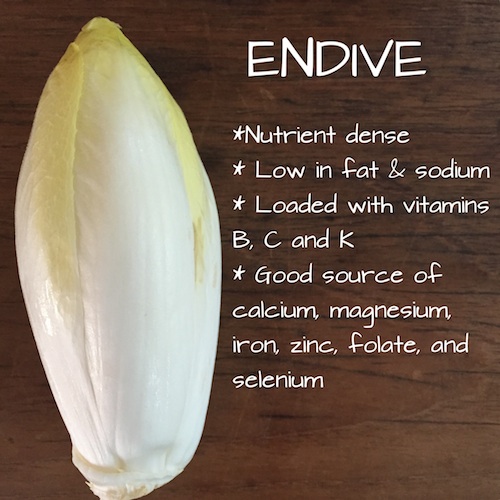 Deliciously nutritious endive is paired with the citrus goodness of grapefruit and the creamy, buttery smoothness of avocado to create a refreshingly tasty salad.
2 grapefruits
3 Tbsp grapefruit juice
3/4 tsp white-wine vinegar
1 Tbsp honey
1 Tbs sour cream
1/8 tsp salt
freshly ground black pepper
1 1/2 Tbs extra-virgin oil oil
3-4 California endives
Peel and cut grapefruit over a bowl to catch any juices
Whisk together vinegar, honey, sour cream, salt and 3 Tbsp grapefruit juice in a small bowl. Season with pepper. While whisking, add oil in a slow steady stream; whisk until emulsified.
Julienne endive leaves in long, thin 1/8″ strips. Cut avocado into 1/4″ slices. Add grapefruit segments. Toss endive, avocado and grapefruit with dressing.

Print Friendly