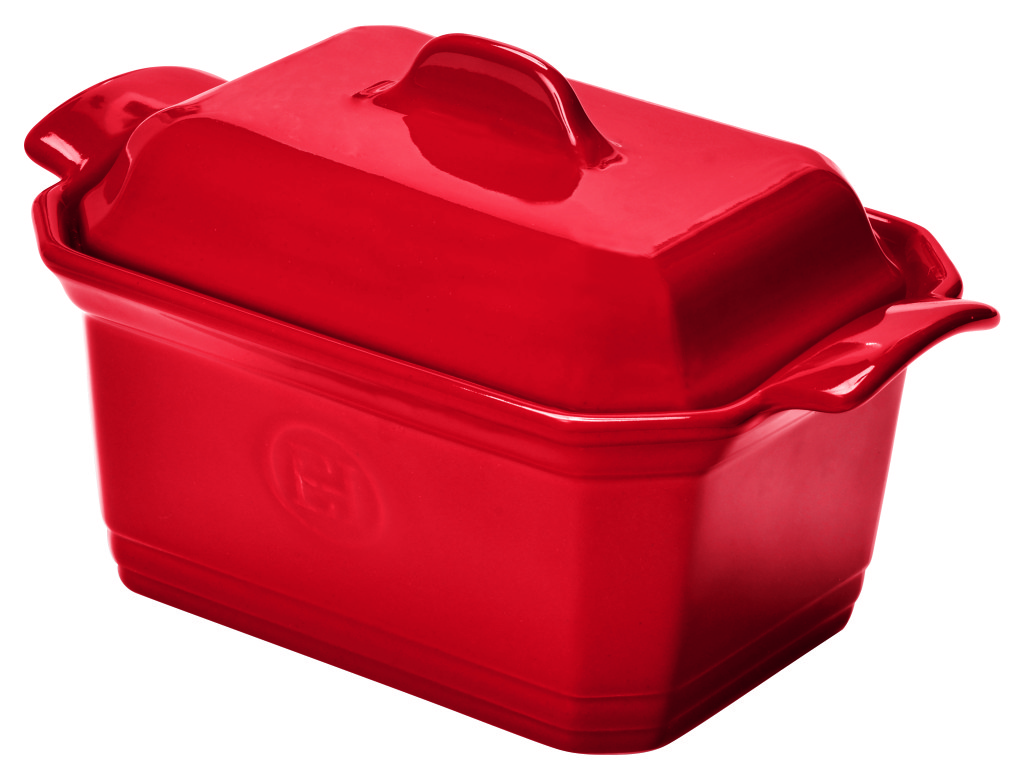 As a kid, our holiday table always included a traditional dish from my Grandmother's side of the family. At Easter, it was Sekanice– a Bohemian meat loaf made with veal neck, pork shoulder, bread and a variety of spices all packed into a loaf pan. I'd timidly indulge in this meat 'loaf' which was served cold alongside other foods I found much tastier. Later in life during my visits to France, I would happily indulge in foie gras and vegetable terrines.
But these were special occasions, not every day experiences, and honestly, I never really thought about it, but a terrine would be very handy in my kitchen. But, I just might have been wrong all these years.
The French Terrine
The terrine is a classic French piece of cookware, that takes a simple meatloaf, pate, or casserole to a new level. The Emile Henry Terrine is an oblong, ceramic casserole dish that has straight sides with a lid, designed to cook layers of chopped meats, vegetables, even frozen desserts (think delicious semifreddo) custards and gelatin.
The Emile Henry terrine is made of Burgundian clay that cooks food gently and evenly. The ceramic absorbs, distributes and retains heat evenly so everything is cooked to perfection, and the straight sides help the food maintain its shape during cooking.
The Emile Henry Terrine comes with a press, to help remove air pockets that can form during cooking, and which can ruin the delicate texture of the cooked terrine. The handles make it easy to carry from oven to table.
Designed to last a lifetime, the glaze is hand applied, and will not chip, crack or craze over time. Because it is dishwasher, freezer and oven safe, the terrine is ideal for making meals ahead of time and sliding them into the freezer. Just pull out and slide into the oven, serve, and then place it in the dishwasher for easy clean-up.
The Emile Henry Terrine is available in three sizes. The small and medium sized terrines include a weighted press that molds ingredients from all sides to remove air pockets to maintain a custard, Pâté or terrines delicate texture. The 6-inch and the 8-inch terrine dishes ,with tight ceramic lids, are available in Burgundy and Flour colors and retail for $50 each.
The large, 9.5-inch long terrine is sized just right for vegetable or meat lasagnas, foie gras, ice cream cakes, custards, gelatins, fruit and frozen desserts. Its tight-fitting lid allows the ingredients to steam so that foods emerge tender and moist and for frozen desserts to set up perfectly. The large Terrine is available in Burgundy, Flour and Oak colors and retails for $60.
https://www.emilehenryusa.com/hr-colors/Terrine-Press-Small-Burgundy-plu349706.html
Save
Save
Save

Print Friendly