This isn't a recipe to prepare when you're in a rush, but it is well worth the time. The recipe reminds me of one I prepared at cooking school in Arles, France nearly 20 years ago. It is 'hearty' enough for a meatless meal, or as a side dish accompaniment for a backyard picnic, buffet, or party.
6 medium eggplants, sliced lengthwise into 1/3-inch thick slices.
Extra-virgin olive oil
Kosher salt and freshly ground black pepper
3 tbsp minced garlic
2 ½ lbs fresh ripe tomatoes, peeled, seeded and chopped
1 cup loosely packed basil leaves, roughly chopped
1 tsp crushed fennel seed
½ cup dry white wine
¾ cups freshly grated parmesan cheese, plus additional for top
½ pound grated mozzarella cheese or Monterey Jack
3 large eggs, beaten until light with 2 tbsp water
smoked tomato sauce (recipe below)
Garnish with arugula leaves and roasted baby vegetables, if desired.
Preheat oven to 400 degrees F. Lightly brush the eggplant slices with some of the olive oil and season with salt and pepper. Place on a baking sheet in a single layer and bake for 20 minutes or until lightly brown and soft. Remove and cool. Lower the oven temperature to 350 degrees F.
Meanwhile, in a saucepan, heat 2 tablespoons olive oil and sauté the garlic for 2 minutes. Add the tomatoes, basil, fennel seed, and wine. Simmer until thick, about 20 minutes. Season with salt and pepper.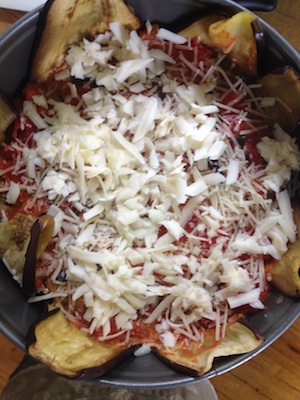 Lightly oil the bottom and sides of a 9- by 2-inch springform pan. Line the bottom and sides of the pan with a layer of the eggplant slices; the eggplant should extend over the rim by at least 3 inches. Spoon in one third of the tomato mixture. Top with one third of the Parmesan and mozzarella. Add another layer of eggplant, trimming to fit snugly. Add the second third of the sauce, followed by a second third of the cheeses. Top with the remaining eggplant. Using a sharp knife or metal skewer, poke holes down through the layers. Pour the egg mixture over the top so that it soaks in evenly. Fold the overlapping edges of eggplant over the top and sprinkle with a little Parmesan.
Bake the eggplant torta on a baking sheet at 350 degrees F for 35 to 40 minutes. Remove and let stand at least 10 minutes before serving. Run a knife around the edge of the pan before releasing the spring.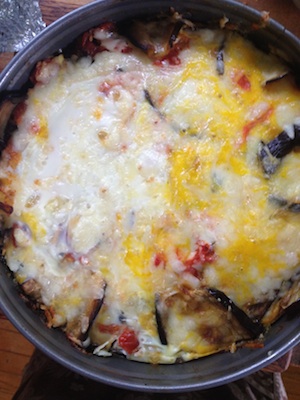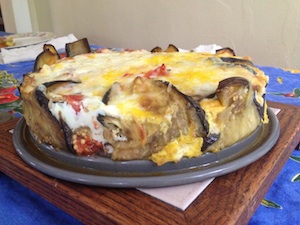 Serve the torta sliced into wedges and surrounded by the Smoked Tomato Sauce (recipe below). Garnish with arugula and roasted baby vegetables, if desired. The torta may be served warm or at room temperature.
Serves: 8 to 10
Smoked Tomato Sauce
A perfect accompaniment to the Eggplant Torta, this sauce is versatile to use in a variety of ways.
1 ½ lbs plum tomatoes, seeded and halved
2 tbsp olive oil
1 cup diced red onions
½ cup diced red bell pepper
2 tsp roasted garlic
1 tbsp chopped fresh oregano (or 1 tsp dried)
1/3 cup dry white wine
Kosher salt and freshly ground pepper
Balsamic vinegar
Place the tomatoes in a single layer in a roasting pan. In a smoker or grill that can be enclosed, place on the hot coals green fruitwood or wood chips that have been smoked in water for 3 to 4 hours. Replace the fill rack. Set the roasting pan of tomatoes on the grill. Cover and grill, leaving a small vent to keep the coals burning. Smoke the tomatoes at least 45 minutes to develop flavor.
In a sauté pan, heat the olive oil and sauté the onions, pepper, roasted garlic, and oregano until the onions are soft but not brown. Add the wine. Increase the heat and reduce the liquid by half. Add the smoked tomatoes. Simmer, uncovered, for an additional 10 minutes to thicken the mixture. Transfer the mixture to a blender or food processor and puree. Return the sauce to the pan. Season to taste with salt and pepper and drops of balsamic vinegar.
Makes about 2 cups
Source: From the Earth to the Table, John Ash with Sid Goldstein, Penguin Books USA, 1995

Print Friendly