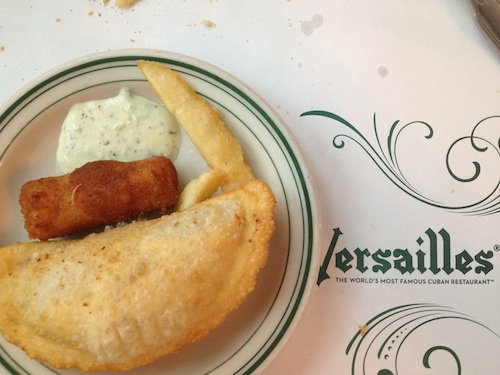 It's been a great week and a half vacationing in Miami and the Keys with the family, and as I sit on the plane, headed for home, I'm ready to get back to our day-to-day, but will surely miss the relaxation of our trip. We truly had a great time, seeing extended family and enjoying a few days in my old hometown of Miami, then heading off to relax in the Florida Keys.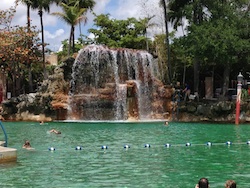 Since we have not been in Miami for eight years, there were so many places on my list of things to revisit as I reminisced of my dozen years of living Miami. We swam at the Venetian Pool in Coral Gables, took an airboat ride in the Everglades, dragged the kids to see the church we were married in, drove by my old apartments, and perhaps most important of all – we enjoyed the local cuisine.
Yes, we can get Cuban cuisine in our neck of the woods here in Northern California, but it just isn't the same. With limited time in Miami, and dozens of places to choose from, we immediately decided on heading to a classic, Versailles.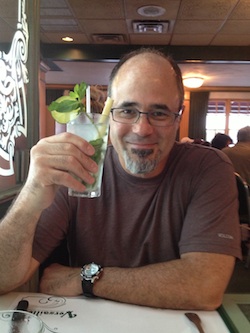 There, Greg and I could indulge in food we don't typically make at home (although I'm wondering why I don't.) We first supped up a mojito or two, then enjoyed an appetizer of ham croquetas, empanadas and yucca fries. My dinner consisted of shredded chicken with rice and beans – and a healthy side of fried plantains. (Greg opted for the bistec – Cuban steak.) I couldn't pass up the opportunity to finish it all off with a deliciously sweet Cuban coffee.
Our short time in Miami we also took the kids to experience a refreshing juice drink at la Palacio de los Jugos – kids got watermelon juice, Greg enjoyed papaya, and me – an aqua fria coconut water.

After two short nights in Miami, we were off to Islamorada in the Keys to celebrate a family wedding. There we transitioned for Cuban fare to seafood. We were surrounded by water, and we were destined to enjoy some fish. Some of our local favorites included conch fritters and oysters – followed by a must-have while in the Keys . . . Key Lime Pie!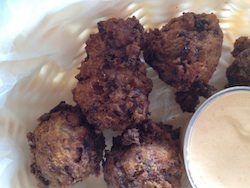 But things weren't all fish while in the Keys. On Friday, at a pre-wedding get together, we enjoyed grilled meat Brazilian style.
We were immersed in the local fare, but in between, we did sneak in some of our traditional dinners made right at our house, including homemade pizza, roasted chicken, grilled T-bone,and spaghetti and meat sauce. While we certainly enjoyed indulging in the local foods, it was delightful to enjoy a bit of home while on vacation.
Back in Miami for a few days and after an afternoon airboat ride in the Everglades National Park, we stopped at one of my favorites, The Pit BBQ for some ribs and pulled pork sandwiches. They offered Alligator Bites, but the kids were not too keen on this local fare.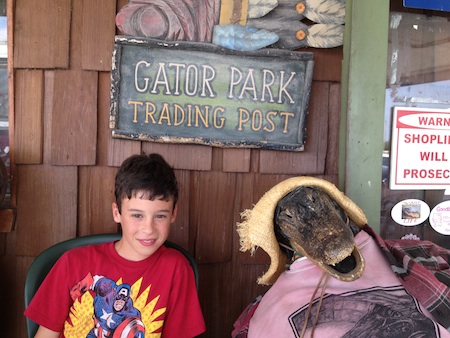 Now that I'm heading home and my mind is on grocery shopping. I'm ready to kick back into full gear, restocking the fridge with our essentials and getting back into the groove. But, I'm sure that now that the family has experienced some of South Florida's 'native' foods, it will be fun to recreate them at home, and relive our great escape from Northern California. However, I doubt the gator bites will be on our menu. Hope you enjoy this South Florida inspired fish recipe.
Key Lime Poached Snapper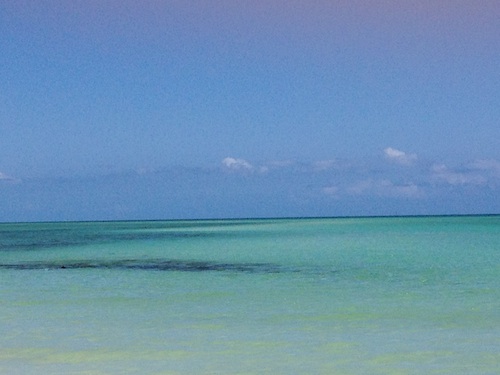 3 ½ cups water
1 cup key lime juice
2 tbsp salt
2 lbs red snapper, filleted and skin removed
½ cup chopped onions
1 clove garlic, chopped
2 bay leaves
½ tsp thyme
2 tbsp chopped parsley
2 tbsp key lime juice
In a glass dish combine 1 ½ cups water, lime juice, and salt and stir until dissolved.
Add the fish to liquid and allow to marinate 1 hour
Drain the fish.
In a poaching pan, combine remaining 2 cups water, onion, garlic, bay leaves, thyme, and parsley, and bring to a boil.
Reduce heat and simmer for 5 minutes.
Add the fish and simmer 10-12 minutes or until the fish flakes easily. Remove from pan.
Bring the liquid to a boil over high heat and reduce the liquid to ½ cup. Add 2 tablespoons lime juice and pour sauce over warm fish.
Source: Tropical Seasons: A Taste of Life in South Florida, Beaux Arts of the Lowe Art Museum of The University of Miami, Inc., 1992.

Print Friendly