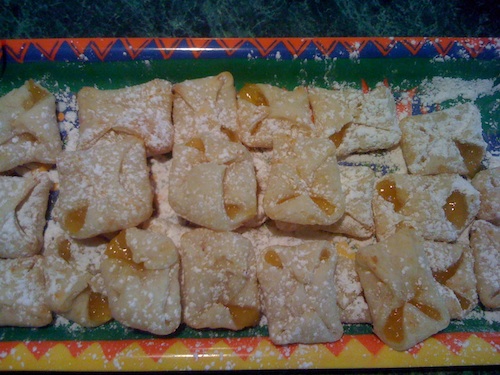 Source: Grandma Marie
2 cups flour
½ pound margarine
2 ounces creamed cottage cheese
2 tbsp sugar
1 small can apricot filling, pineapple preserves, or any fruit filling.
Sprinkle of powdered sugar, if desired
Preheat oven to 325 degrees F
Measure all ingredients
Cut margarine into four in a large bowl
Mix in cottage cheese
From dough into a ball, add a little extra flour if the dough is too sticky
Sprinkle flour on work surface and roll out half of the dough, about ¼" thick.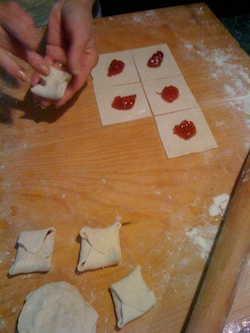 With a sharp knife, cut into squares, place ½ tsp. filling in each square. Fold each like an envelope (four corners towards the center.
Place on ungreased cookie sheet and bake 15 minutes, or until lightly browned.

Print Friendly