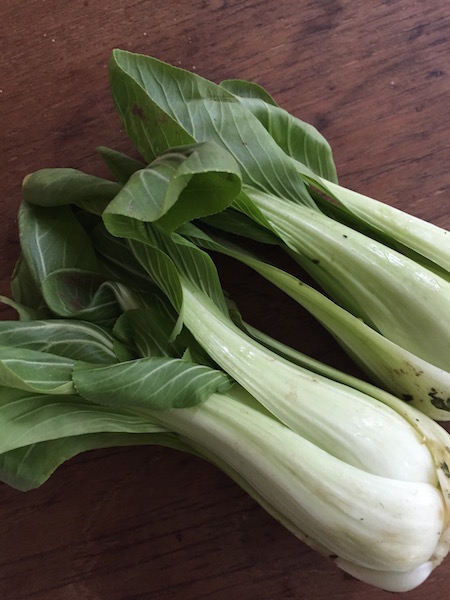 Baby bok choy is a smaller, younger version of bok choy. It is a brassicacae and is part of the mustard or cabbage family. Because it is smaller, it is more tender, and provides a milder flavor.
The list of nutritional benefits are plentiful. One cup of shredded raw baby bok choy has only nine calories and no saturated fats. These leafy vegetables contain omega-3 and moega-6 fatty acids, and are a rich source of vitamin A, C, K, and folate. Bok choy also provides several minerals, such as calcium, magnesium, phosphorus, potassium, and sodium.
Try your bok choy raw in a salad. Bok choy contains enzymes that produce cancer-fighting compounds. Cooked bok choy however, can improve the absorption of carotenoids, which are better absorbed when you cook the bok choy first and serve with a healthy fat.
Baby bok choy is enjoyable in stir-fries, with noodles and in soups. Try them braised, grilled, or even raw in a salad or slaw.
1 Tbsp olive oil
1/3 cup white wine vinegar
1 Tbsp honey
4 Tbsp soy sauce
2 bunches baby bok choy, cleaned and sliced
1 bunch green onions, chopped
1/8 cup almonds, chopped
1/8 cup cashews, chopped
Whisk together olive oil, white wine vinegar, honey and soy sauce.
Combine the baby bok choy, green onions, almonds and cashews. Toss with the dressing and serve immediately.
Serves: 4
Source: Farm Fresh to You

Print Friendly