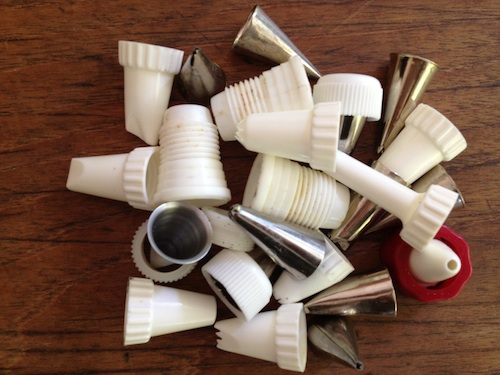 I remember mom in the kitchen baking and decorating everything from birthday cakes to cream filled lady locks. She always had her decorator tips on hand, ready to add a pretty rosette, thin piping, or ruffled edges of frosting to just about anything. What I also remember is her frustrated searches for the proper tip she needed  – and of course, the mess that was left behind.
Like Mother, Like Daughter: I have my own set of tips, along with a reusable pastry bag (see photo above). I've participated in more frantic searches for tips than I want to admit. And, I've cringed at the cleanup after the frosting (again, see photo above, and note the frosting residue on the plastic tips). For those reasons, I often choose NOT to use my frosting tips, instead opting to have my homemade cakes a bit less adorned.
It's a different story for my mother. She is unwavering in her cake decorating, even with the frustrated searches and clean-up. She has even travelled to our house with her pastry tips in luggage so she could decorate birthday cakes for my kids' birthdays (I think she was a bit surprised when I told her I had my own set of tips and bags).
Recently I had the chance to try the OodleTip from BonNosh. It's a one-piece, disposable, food-filing and decorating bag with an attached tip. The disposable bag has a versatile tip attached to it that allows me choose my tip style and size – food filling, French stars, piping . . . I just snip it with the scissors and customize it for the design and diameter I need.  When I'm done, I simply toss in the garbage and don't worry about cleaning the tips, or the mess involved in cleaning and drying the pastry bag.
Now, I have to admit that I went into this experiment with a bit of trepidation. I'm not someone who is keen on single-use products, yet, I gave it a try. At first, I took on Nicole's Communion cake, then later in the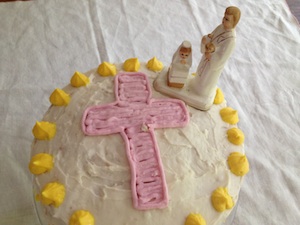 week, I was making homemade oreo cookies  – a treat for Grayson to share with his class on his birthday. The cookie recipe make mention of using a pastry bag and tip to fill the sandwiches with cream – something I never do. Instead I use a knife to add the frosting, because I don't want to drag out the pastry bag and tips for the task. With my handy OodleTip within reach, I decided it was time to follow the recipe. Using the OodleTip, I was able to quickly and evenly fill each cookie. Without it, I'm always fussing with how much filiing to apply.
Next up, it was another birthday cake, and this time around, I was well-versed in using the OodleTip. I knew just where to snip the tip to get the design I desired. It was a quick and simple job, and once that I would not have wanted to pull out my old tips and pastry bag to use – I probably would have chosen a different design that required me to simply spread frosting on the cake.
It was clear to me that the OodleTip gave me the confidence to be a bit more creative, and more importantly, it saved me both time and frustration. When it comes to my thoughts on disposable, I estimated in the number of times I might use in throughout the year – maybe 10 – and I figured that number was low enough not to wouldn't feel too guilty about throwing it away after one frosting job.
The box includes 10 disposable, 16" OodleTip bags with the tips attached and sells for $9.99 Also available is the Little OodleDoodle, which is designed especially for children and every box of 10 contains a special twisty clip, making it easier for the little ones to handle and decorate their favorite food with NO MESS! Additionally, the 12″ smaller size bag is little-hand friendly, improving hand eye coordination skills while encouraging children to be creative in the kitchen.
For more information, visit the BonNosh website.

Print Friendly