Fresh cranberries appear in markets from October through December, but oftentimes only make an appearance at the annual holiday table. But, now that Thanksgiving is over, don't count this healthful little berry out of the mix. Cranberries are delicious to enjoy in so many other ways than simply a sauce. And, they are healthy as well. Half a cup of cranberries contains 25 calories, and is filled with Vitamin C (serving as an antioxidant); fiber, (which aids in lowering risks for a variety of ailments from coronary heart disease and hypertension to certain gastrointestinal diseases); and vitamin E (an anti-oxidant involved in immune function).
Expand your cranberry horizons and enjoy them  in salads, dressings, baked goods, snack foods, in beverages and more. Below are a few ideas on how to use the fresh cranberries that you'll find in the grocery for the next few weeks.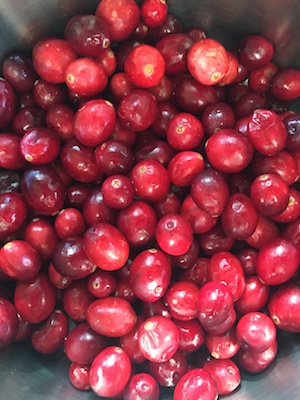 Freeze Them –Nothing can be easier than freezing cranberries. Simply wash fresh cranberries, then spread them on a cookie sheet and place them in the freezer. Once frozen, transfer to a freezer bag, then enjoy them throughout the year.
If you'd like, freeze cranberries to float in your holiday drinks – from sparkling water to a delicious celebratory drink made by adding a touch of cranberry juice to Prosecco, then float frozen cranberries on top.
Whip, Blend, and Frappe Them – Cranberries add a delicious surprising flavor to many of your everyday dishes. Whip them into butter serve it with bread or vegetables, or add a touch of maple syrup for topping your pancakes. Blend them into smoothies for an additional antioxidant boost. Frappe them with water, lemon and sugar – then freeze for a pallet-cleansing treat.
Infuse with Them – For all you DIYers out there, use cranberries to infuse spirits and create a delicious holiday gift, or party cocktail. Vodka is the most popular base for infusing, but you can also use anything from gin to light rum, and even sake. First, find yourself a clean, air-tight infusion jar, fill with the base alcohol, add cranberries, cover and shake. You'll need to shake them a few times a day, and let them sit in a cool, dark place for three to five days. Taste it to determine the level of infusion you desire, then strain, and serve – or wrap as a present.
Bake them – Cranberries are delicious when baked – and are ideal for a variety of your favorite recipes. Because they are similar in size to fresh blueberries, you can also substitute them one-for-one for blueberries in your recipes, even those that call for dried cranberries. Go ahead try some cranberry muffins, cranberry scones, a pear and cranberry tart or in homemade granola bars.
Candy them – Use them to top a delicious cheesecake, set them out on the table, on pancakes, and cluster them on crème brulee. Go ahead, enjoy as nibbles – your extra cranberries will be gone before you know it. (see below for a Sparkling Cranberries recipe from 101cookbooks.com)
Get creative with them. Cranberries are versatile and flavorful little fruits. Take advantage of the season of cranberries by adding them to so much more than your favorite cranberry sauce recipe.
Sparkling Cranberries*
For the simple syrup, raw cane sugar or real brown sugar lends a nice molasses flavor to the cranberries, but regular granulated sugar (or a blend of brown/white) will work.
2 cups cranberries, picked over
2 cups water
2 cups sugar (see head notes)
More sugar for coating: I do a mix of medium-grained organic sugar for the first coating, and then a second toss with regular granulated white sugar. You don't want a huge grain for that first toss, just something larger than standard sugar, smaller than most turbinado sugars. You can sort of see the different grain sizes in the third photo in the main write-up.
Place the cranberries in a medium glass bowl and set aside.
Make a simple syrup by bringing the water and sugar just to a simmer in a medium saucepan. Let the syrup cool for a couple minutes and then pour it over the cranberries. If the syrup is too hot the cranberries will burst, so be careful. Cover and refrigerate overnight.
The next day, drain the cranberries and toss them with larger grained sugar until they are well coated. I only use a scoop of sugar at a time, and small batches of cranberries, so the sugar doesn't get too damp. Place the coated cranberries on a baking sheet to dry for a few hours.
Do a second toss with the regular granulated sugar, this typically takes care of any sticky spots on the cranberries. Let dry another hour.
Makes 2 cups of sparkling cranberries.
Prep time: 5 min – Cook time: 60 min
Recipe from 101cookbooks.com For more great recipes, please visit the site.

Print Friendly