I've been lucky when it comes to learning how to make my way through the kitchen. As a child, I spent a lot of time there, with my mom and my grandmother, learning how to make everything from chili to pie, and from pancakes to dumplings. Sure, I've had my ups and downs, but my mother has always been a phone call away if I need a bit of advice when I get stuck on a recipe.
Aside from my Mom's continual help in the kitchen,  from time to time, I still need a bit of tune-up — a bit of taking my cooking game to the next level, to help me diversify my time-tested recipes, and give me a bit more inspiration to add more recipes to our weekly menu offerings.
A cooking class is just the thing to get me over my hump. These days, cooking classes are available all around us, even online. But, when I think of a cooking class, I am reminded of my time spent in Arles, France at cooking school, where Chef Erick Vedel and his wife Madeleine taught our group a bit about Provencal cooking. Much of what I learned there, nearly 20 years ago, has been helpful in building my confidence in the kitchen. Whether they are techniques which I learned (how to skin a rabbit), or recipes we prepared (tian de lugumes), my experiences there are still with me today in the kitchen – even if I haven't skinned a rabbit since that summer day in 1999.
Here is an excerpt from my first day  in cooking school.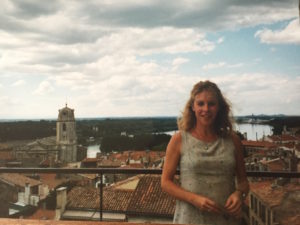 July 7, 1999
On our first full day in cooking class, we started at the market. Le Mistral was blowing, and would whip in through the town almost continuously. Erick was leading the way, purchasing food for the week — eggs from a well-known vendor, cloves of garlic, fresh basil, and olive oil – ingredients for the pistou to be used in the soup we'd make later in the week, olives for the tapenade, and so on.
The sun was seeping through the plane trees which line the market's boundaries, helping keep things cool. Here inside the market, we were surrounded by colors yellow golden prunes, yellow and red tomatoes, green mint  . . . and the smells were glorious.
After making our way through the mounds of garlic, pyramids of fruit, and past the cheese, we emerged into the flea market section whether clothes, trinkets and cloth was for sale. I took the opportunity to purchase some Provincial print which I plan to use for aprons one for each of us taking the class.
Our group then moved on to enjoy a picnic near Tarascon sur la Rhone/Beaucaire. There wasn't much of a sandy beach, but medium sized rocks, so we couldn't walk barefooted. The water was pretty cold, but with the sun shining down pretty intensely, making it very nice to dip our feet in and get cooled.
By the time we set up the food for the picnic, we were famished. (Odd, because I don't think one of us had been hungry during the trip yet.) We enjoyed cheese, bread, sausage and wine. Erick had made a delicious smoked duck, but boy did it have a lot of grease on it. As we ate, we watched the local boys jumping from the rocks towering over us. Some were quite daring, while others were only up there for the view.
It was a relaxing morning and early afternoon, but we were in the south of France for a reason, and were all happy to finally make our way back to the home for cooking class!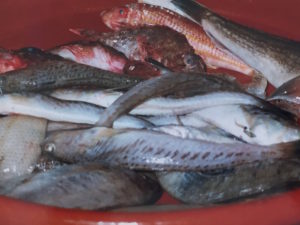 Fish soup was on our menu tonight, so I wasn't too thrilled. Erick had purchased a mélange of fish at the market earlier in the day, including la cigale de mare, which is like a big shrimp, but named after the cicada which chirped all around us while in Provence.
There was also another rock fish collected from the shallow areas, catfish, red mullet as well as all those placed in a crawfish dish with oil and onions.
My dislike for this fish-focused soup lesson intensified as we added the head, eyes, bones and innards to the pot, along with water and vinegar for simmering.
While that was dissolving, we started on Fricot des Barques, a shank cut meat dish. It is a dish the mariners ate while sailing up the Rhone. According to Erick," the dishes the mariners made started in the morning, and simmer all day. It is, one of the rare dishes that smells before you cook it."
*****
It is safe to say that I have not made the fish soup since. And, I haven't skinned a rabbit either. But, that doesn't mean the skills, or knowledge of these foods I cooked there, hasn't been helpful.
Erick taught us some tricks of the trade  – many of which I still use today.
* One of the first concoctions he taught us to make was a mixture of anchovies, capers and parsley packed in coarse salt and left for 6 months for the anchovies to create their own juice. An old cookbook, he said, instructed readers to 'put them in the sunshine for a month." Then, when you use them, they literally melt in the oil.
* Tian de legumes is a Provincial vegetable layered dish with eggplant, peppers, zucchini and tomatoes all sort of layered together and sprinkled with Fleur de Sel Guerande.
* To whet our whistle, Madeleine offered a white wine which had slices of ginger in it. Another Erick concoction – the ginger was used to cut, or rather, smooth the taste of a cheaper wine.
* To accompany the fish soup was a rouille made with raw garlic puree, Dijon mustard (an essential), olive oil and egg yolk. For a bit of coloring, paprika, salt and ground cayenne. To properly eat the soup, rub a bit of garlic on the crusty bread, put the roulle on it, top with cheese and place in the bottom of the soup bowl. This rouille is enjoyable to spread on toasted baguette, baked fish, and so much more!
* Grate a clove of garlic over the tines of a fork, into lemon juice to cut down on the pungency of the garlic.
* And, when making an olive tapenade, always use fresh olives that are rinsed to take away the salty taste.
Aside from techniques used in the kitchen, my time at cooking school in Provence taught me about the appreciation of using local ingredients, and how they shape the food and cultural traditions of a region. This was something I learned long before it became a 'buzzword' of the foodie world, and something I have enjoyed incorporating in my daily life.
You don't have to go to Provence to fall in love with food. Take the time to learn a few tricks of the trade, which you can use every day. Learn to make sauces, get out of the doldrums and learn 10 new chicken recipes, better your knife skills, bake bread, or skin a rabbit.
Food is nourishment for the body and for the soul. Nearly twenty years after my experience at cooking school in Arles, my soul is still filled. But, I do have to admit that I'm hungry for more!
For your enjoyment, here is Chef Erick Vedel's recipe for Fricot des Barques
Fricot des barques
Serves: 4
2.2 lbs. (1 kg) beef rear shank cut (you can also use beef ribs, if you wish)
6 salted anchovy fillets, bones removed
3 garlic cloves
3 onions
3 Tbsp capers
6 bay leaves, crumbled
1 bunch of parsley
3 Tbsp olive oil
freshly ground black pepper
Slice the beef in thin slices.  Chop all the rest of the ingredients finely and mix them together.
In a heavy bottomed casserole dish, cover the bottom with olive oil.  Place one layer of the meat slices on the bottom, then cover with the chopped mixture. Alternate layers of meat and chopped mixture, ending with the chopped mixture on top.  Cover and cook for 3 hours over a low flame or in a medium hot oven.  If steam escapes, then add a bit of water from time to time.
Delicious served over a bed of rice, pasta, or any other grain.
Save
Save
Save

Print Friendly