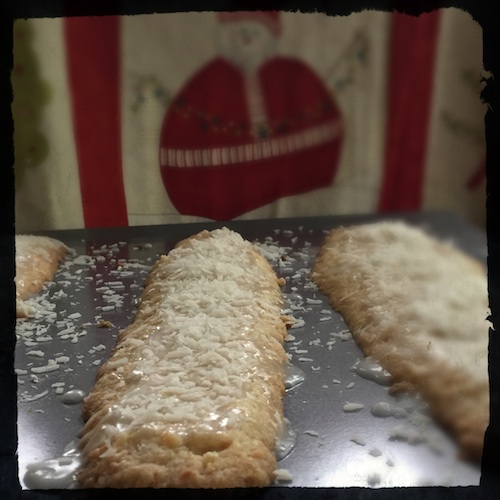 Coconut Diagonals are a favorite holiday cookie that are so easy to make and have lots of delicious coconut flavor. In fact, they're delicious to enjoy all year 'round – so go ahead and bake up a batch!
1 cup all-purpose flour
1/2 tsp baking powder
1/3 cup granulated sugar
1/2 cup toasted coconut
1/2 cup butter or margarine
1 cup confectioner's sugar
2 Tbsp light rum, or 1Tbsb water and 1/2 tsp rum extract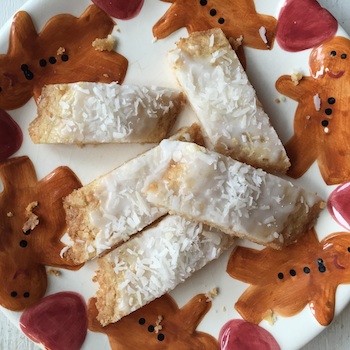 Preheat oven to 350 degrees F. Combine first 4 ingredients in mixing bowl.
Cut in butter until mixture resembles coarse meal.
Quickly gather particles together into ball and divide in 3 equal pieces.
On a lightly floured board, shape in rolls about 3/4″ in diameter.
Put on a lightly greased baking sheet, leaving 2″ space between rolls.
Bake 10 – 12 minutes, or until golden brown.
Combine confectioner's sugar with rum and blend until smooth.
Frost while slightlty warm and sprinkle with coconut.
Cool on baking sheet and cut diagonally with sharp knife in cookies about 4/4″ wide.
Makes 3 dozen.

Print Friendly