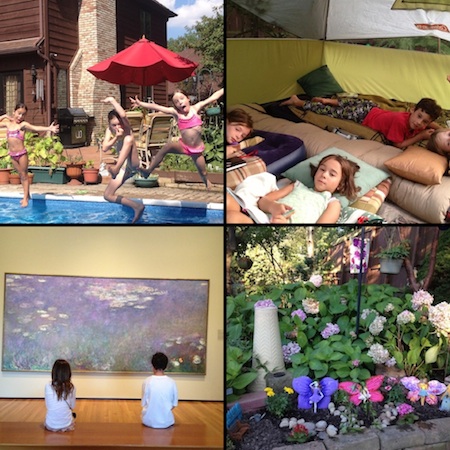 It's an annual summer tradition, traveling back to the Cleveland area to spend time with the family. Each year we look forward to enjoying the backyard pool,  playing Uno with Pa, camping with grandpa, or making a fairy garden with Grandma. Additionally, we dive into the city enjoying the shores of Lake Erie, visits to the art museum, and a trip to the West Side Market. There are a lot of traditions we enjoy while in town, especially when it comes to eating and drinking. From markets to coffee shops and places to snack, here is a rundown of some of my favorite Cleveland Classics: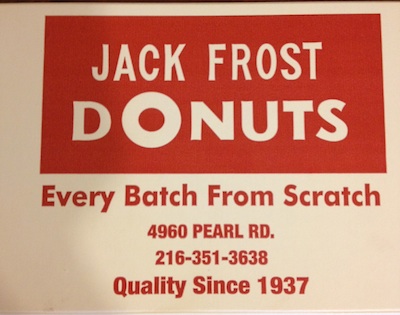 Jack Frost Donuts
4960 Pearl Rd.
Parma, Oh
216-351-3638
Late Sunday afternoons after Grandma would serve her homemade chicken soup, my Grandpa would head on out to grab a couple of dozen Sno-White donuts to sink our teeth into. The array of freshly baked donuts was dizzying and it was a Sunday tradition that I can still taste. But Sno-White Donuts is only one of the Cleveland donut favorites. There is also Jack Frost Donuts – and these are the donuts of choice for our annual breakfast with Dad's friends. One morning during our visit, Dad heads on over with his friends who come bearing gifts – danish pastries, ethnic pastries and  Jack Frost donuts included. We brew up some coffee and get our sugar fix on donuts as we visit with friends.
The array off offerings at Jack Frost is dazzling. They offer traditional flavors (glazed, jelly, and cream sticks). But if you're a bit unconventional, you can enjoy flavors such as bacon maple, banana split, or even turtle. Me, I opt for traditional glazed. Go early, as they can sell out of some of the varieties by the afternoon. Oh, and they only take cash.
6610 Euclid Ave.
Cleveland, OH
888-Gallucci
Gust Gallucci Company is home to  Italian and imported gourmet foods and has served the greater Cleveland area for over eighty-five years. Started by Gust Gallucci, an Italian immigrant who discovered a large Italian population who longed for products from their homeland, Galucci  first began selling his products from a large wooden cart and in1912, and eventually established his first store on the west side of Cleveland. Great food and great service has helped this store became a gathering place for Italian Americans and lovers of fine foods and wines. Gust's sons, Frank and Ray, joined the family business and continued to run the store after their father's death in 1952.
A delicious hot sausage sandwich filled our bellies on the day we visited, and I had to quickly snag my favorite dessert, the Angel Wings, before the kids ate them all.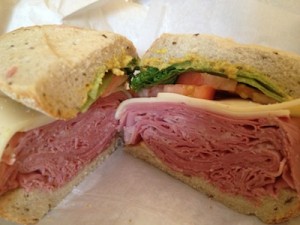 Tal's Bakery & Deli
5747 Ridge Rd.
Parma, OH
440- 885-0905
Cleveland is filled with so many different local deli's and this one is definitely a favorite – especially of my Dad's. Founded in 1946, Tal's Square Deal offered  offered a variety of grocery and deli items for the many families in the area, but it quickly became known for its corned beef, a hard-to-find commodity on Cleveland's west side.
Tal's eventually began offering catering, and many a party in Parma and beyond has featured food from Tal's through the years. The legendary corned beef sandwiches are still offered today — which is the behemoth I enjoyed on the way home from Dad's. All I can say is that I was satisfied!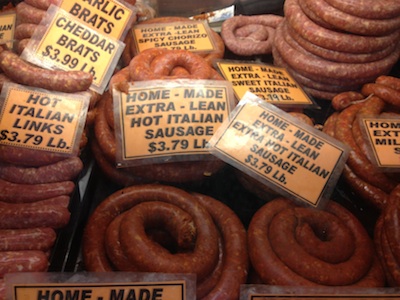 1979 West 25th Street
Cleveland, OH 44113
216-664-3387
A trip to Cleveland wouldn't be complete without avisit to the West Side Market. With its origins dating back to the 1800's, West Side Market has established itself as the premier public market. There are more than 100 vendors of great ethnic diversity, from fresh,fine meats and fresh vegetables, but also fresh seafood, baked goods, dairy and cheese products, and even fresh flowers. There are also booths that sell ready-to-eat foods, herbs, candy and nuts.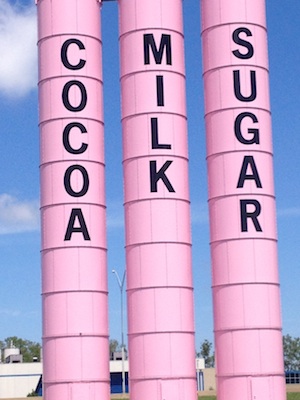 13400 Brookpark Rd.
Cleveland, OH 44135
216-325-5570
Anyone who drives down 480 west of Cleveland can't miss the bright pink towers painted with the words Cocoa, Milk, Sugar. For anyone who stops and ventures inside, you'll enjoy a tradtion of chocolates dating back to 1935. For three generations, the Malley family has crafted chocolate sweets from the finest ingredients. Following recipes that were handed down from "Mike" Malley, who honed and perfected each one in a copper kettle over an open flame, Malley's Chocolates is best known for excellent chocolates, but don't forget to try the  ice cream, which has been a customer favorite from the beginning.
Malley's Chocolates now has 21 stores, four with authentic soda fountains and fun ice cream parlors. A lace doily comes under every Tin Roof, Black and White, Banana Split and other dazzling sundae favorites. Sodas of every flavor are served, along with rich and delicious milk shakes and malted milk shakes, and parfaits. It's modern chocolate-making kitchen, factory and retail store occupies 60,000 square feet on more than five acres located on Brookpark Road in southwest Cleveland, Ohio.
4569 Spring Rd.
Brooklyn Hts., OH 44131
216-749-7069
Roasting in Cleveland for more than 80 years, Van Roy has been a major coffee importer and roasting facility based in North East Ohio committed to providing customers with only the highest quality products whether it be Arabica coffee beans harvested from the Brazilian countryside, spices from the Orient, or tea from China.
Van Roy established a level of product quality with its "Hotel Coffee", a blend which is still offered today, along with other fine gourmet coffees.
Since its beginning, The Van Roy Coffee Company has been an institution in Cleveland, with its trademark coffee-can billboard on the west Shoreway, and the fresh aroma that permeates throughout the Ohio City neighborhood every time a fresh batch of coffee is roasted. Van Roy roasts and packages coffee daily ensuring that only the freshest cup of coffee reaches the customer.
You don't head to Van Roy's to get a cup of coffee. What you do go there for is to grab some coffee by the bag for brewing at home. In the no frills office we could peruse the display of the single origins, blends, and flavored coffees. Also available are teas and spices.
Nothing fancy, just order and wait, but the true experience came back at home when we had the chance to brew coffee from the collection we purchased. My favorite was the Sumatra which offers a full bodied flavor with a slightly fruity flavor, somewhat smoky flavor.
As an added benefit, join the Coffee Club, and after purchasing 12 pounds of coffee, you receive a free pound.

Print Friendly