This recipe was inspired by some chorizo stuffed mushrooms I spotted while at Cleveland's West Side Market. I knew they'd be tasty, and delicious if served in portobello mushrooms. And when topped with panko and parmesan cheese, they turn into a meal. Because they're made using chorizo, there is no need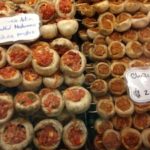 to add more spices. I like to use Mulay's chorizo which adds a spicy flavor, without being too hot.
3-4 portobello mushroom caps, cleaned and patted dry
1 lb chorizo sausage (ground ) or remove skins from sausage and cook meat only
1 cup panko bread crumbs
½ cup freshly grated Parmigiano-Reggiano cheese
2 1/2 tbsp olive oil, plus more if needed
salt and pepper to taste
Cook sausage in skillet until fully cooked. Fill mushroom caps with sausage and place in 400 degree oven for 15 minutes, or until mushrooms are grilled and warmed. Meanwhile, toss the panko with the Parmigiano cheese and the 2 ½ tablespoons of olive oil; season with salt and pepper.
Scatter panko mix on top of sausage and return mushrooms to oven. Turn oven up to broil for a few minutes, and brown panko slightly.
Enjoy immediately.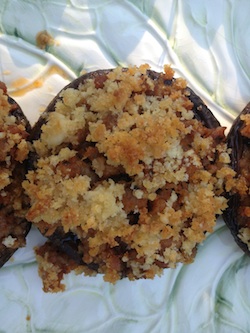 Print Friendly