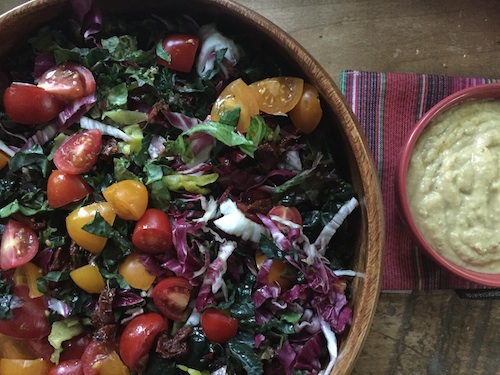 I love chopped salad, and this one (Chopped Salad Amigliorata) makes me love them even more. The chickpea puree is delicious when placed in the bottom of the salad bowl, or even as a dip for veggies.
1/2 cup olive oil
2-1/4 cups canned chickpeas
salt
1- 1/3 cups, plus 4 tsp. extra-virgin olive oil
1/3 yellow onion, sliced into 1/8-inch thick rings
3 garlic cloves, crushed, plus 1 while clove
2 tsp chopped rosemary
4-1/2 ounces fresh lemon juice
1/8 tsp cayenne pepper
3 ounces white wine vinegar
1 six-minute egg, cooled
1 tsp Dijon mustard
25 anchovies
1-1/2 tsp sugar
1 cup canola oil
4 tsp dried oregano
black pepper
3 heads Little Gem lettuce, sliced crosswise into thin strips
1 head radicchio, core removed, sliced crosswise into thin strips
1 bunch kale, stems removed, sliced crosswise into thin strips
1/2 cup pepperoncini
1/2 cup spicy salami, cut into 1-inch matchsticks
1 cup cherry tomatoes, halves
1/2 cup sun-dried tomatoes, julienned
To a heavy-bottomed pot over medium-high heat, add 1/2 cup olive oil. When hot, add 1 cup chickpeas. Fry, stirring carefully, until golden and crispy, 15 to 20 minutes. Using a slotted spoon, transfer chickpeas to paper towels to drain. Place in a medium bowl and toss with salt to taste.
In a pot over medium heat, add 4 tsp. extra-virgin olive oil. When hot, add onion, crushed garlic, and rosemary; cook, stirring occasionally, for 10 minutes. Add remaining 1-1/4 cups chickpeas and just enough water to cover. Lower heat and cook for 30 minutes or until chickpeas are very soft and starting to break down. transfer mixture to a blender and add 1-1/2 ounces lemon juice, 1/3 cup olive oil, and cayenne. Blend, starting on low and raising the speed to high until smooth, adding water if necessary. Season to taste with salt and let cool.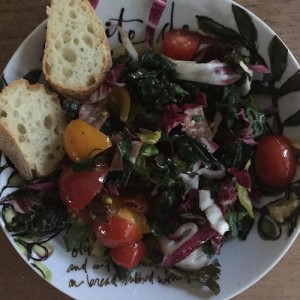 In a blender, mix white win vinegar, remaining 4 ounces lemon juice, egg, mustard, remaining garlic clove, 10 anchovies, and sugar. With blender running, slowly pour in canola and remaining 1 cup extra-virgin olive oil. Add 3 tsp, oregano and blend until incorporated; season to taste with salt and pepper.
Spoon chickpea puree into six shallow salad bowls and spread to cover the bottom of each. Set aside. In a large bowl, combine lettuce, radicchio, kale, remaining 15 anchovies, pepperoncini, salami, cherry tomatoes, sun-dried tomatoes, remaining 1 tsp. oregano, and salt to taste. Add 3.4 cup of the dressing (save the rest in the fridge for up to a week) and toss. Divide between bowls and top each with fried chickpeas.
Source: Shape Magazine, June 2015

Print Friendly