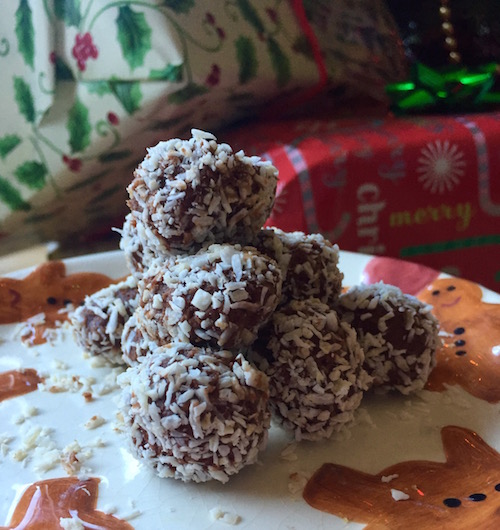 A great hostess gift for the holidays, but be sure to make a double batch, you'll want some around your house to nibble on.
1/3 cup heavy whipping cream
2 cups double chocolate chips
6 tbsp unsalted butter, cut into small pieces
Coating:
1/3 cup unsweetened cocoa or shredded coconut.
Bring the cream to a simmer in a small saucepan. Remove from heat.
Stir in the butter
Melt chocolate chips. Add melted chocolate to the cream mixture. Stir until smooth.
Pour the mixture into a shallow bowl. Cook, cover and refrigerate until firm, at least 2 hours.
Pour the coating into a pie plate. Line the airtight container with waxed paper. Dip melon baller or small spoon into a glass of warm water and quickly scrape across the surface of the chilled mixture to form a rough 1" ball.
Roll the rough truffle ball in hands to form a smooth ball. Drop the ball into the coating. Repeat with remaining truffle mixture.
Gently shake the pie plate to coat the truffles evenly. Transfer truffles to the prepared container, separating layers with additional waxed paper.
Cover tightly and refrigerate up to 2 weeks, or freeze up to 3 months.
Makes 30 truffles
Source: Ghirardelli

Print Friendly