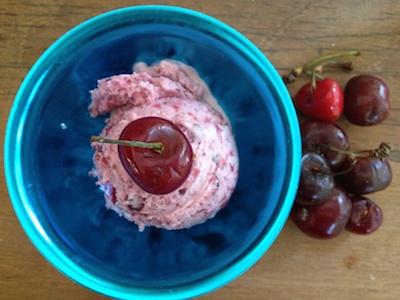 Soft, sublime and slightly sweet, this cherry gelato recipes will transport you to Italy and beyond. We use the De'Longhi gelato maker to create this recipes, making it as easy to make as it is to eat!
For Gelato:
1/2 vanilla bean, halved lengthwise
3 1/2 cups whole milk
1/2 cup turbinado sugar such as Sugar in the Raw
2 tablespoons cornstarch
For Cherries:
1/2 pound bing cherries (1 1/2 cups; do not substitute frozen), pitted
2 tablespoons turbinado sugar
1 teaspoon pure almond extract
1 teaspoon pure vanilla extract
Scrape seeds from vanilla bean with tip of a paring knife into a small heavy saucepan. Add milk and a pinch of salt and bring just to a boil, then remove from heat.
Meanwhile, whisk together sugar and cornstarch, then add 1/2 cup hot milk, whisking until smooth. Whisk into milk in saucepan. Bring to a simmer, whisking, then simmer, whisking, 3 minutes. Immediately pour through a fine-mesh sieve into a metal bowl set in an ice bath. Cool to room temperature, stirring occasionally, about 10 minutes.
Remove from ice bath and chill, covered, 1 hour.
Prepare cherries:
Pulse cherries, sugar, and extracts in a food processor until finely chopped, then chill, covered, 1 hour.
Make ice cream:
Stir cherries with their juices into gelato mixture and freeze in ice cream maker. Transfer to an airtight container and put in freezer to harden, at least 2 hours.
Source: Epicurious

Print Friendly