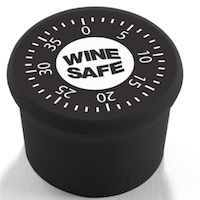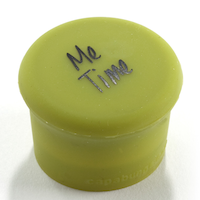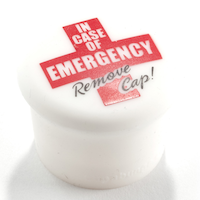 For those times that we don't finish a full bottle of wine in one sitting, there's the new CapaBunga, a silicone cap sealer. The handy bottle re-sealer is designed by winery owners, Walt and Máire Averill, who bottle their own special blend, Rua (the Gaelic word for red), in Northern California's Wine Country.
Made to resemble the bungs used to seal barrels during winemaking, the reusable wine bottle cap is made from food-grade silicone and available in a variety of colors imprinted with phrases such as "Retox," "Me Time," and In Case of Emergency Remove Cap."
No need to jam the cork back into a partially consumed bottle, CapaBunga also helps prevent pieces of cork from breaking off and falling into the wine bottle.
To use, simply place the cork in the wine bottle and gently press the cork into place.
Making the CapaBunga even more useful is that it is easy to store an opened bottle of wine on its side. It is even powerful enough to prevent a spill even when a bottle is turned upside down. Go ahead, place that bottle in the wine rack, refrigerator, or wherever you find room.
Originally designed to fit the unique shape of the Rua bottle, CapaBunga is now available in a universal fit to reseal any bottle of wine after the cork is removed.
A 2-pack of CapaBunga retails for $7.99 and can be purchased at www.capabunga.com.

Print Friendly