According to Chef  Grady Spears, Texas 1015 onions make the best onion rings in the world – as they are sweet, big and make 'impressive' onion rings. If you can't find 1015's, opt for swet onions such as Vidalias, Mauis, and Walla Wallas.
For Onions
2 large 1015 onions
1-1/2 cups Flour Spice (see below)
4 eggs
1 cup buttermilk
1 cup Shiner Bock or any good bock beer
1 tsp salt
5 cups peanut oil
kosher salt to taste
freshly ground pepper to taste
For Flour Spice
1-1/2 cups flour
2 tsp Kosher salt
2 tsp freshly ground pepper
4 Tbsp paprika
Prepare the flour spice by blending the flour, salt, pepper and paprika
Cut two ends off of the onions and discard. Slice the onions to produce rings about 1-1/2 inches thick.
Remove the very center of the onion and discard. Separate the rings and set aside.
Put the flour spice in a bowl or on a plate and set it aside.
Prepare the batter by whisking together the eggs, buttermilk, beer and salt.
Heat the oil in a heavy, deep saucepan or deep fat fryer to 350 degrees F, or until a drop of batter sizzles when dropped in.
When the correct temperature is reached, begin the breading process with the onion rings.
Dip each ring into the batter, dredge it in the Flour Spice, place it back into the batter and again into the Flour Spice. The final dredging should evenly coat the batter so the rings are dry on the outside.
Slide the prepared rings into the hot oil. Fry the rings for 4 to 6 minutes, maintaining an even temperature, until they are golden brown.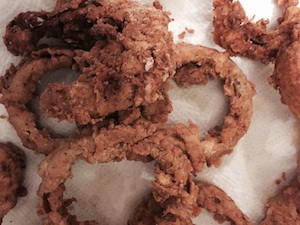 Remove the rings with a skimmer or slotted spoon, as they become golden brown, to drain on a tray lined with paper towels.
When all the onion rings are cooked, stack them on a serving platter.
Yield: 4 servings, or 28  rings.
Source: A Cowboy in the Kitchen, by Grady Spears and Robb Walsh, Ten Speed Press, Copyright 1998.

Print Friendly