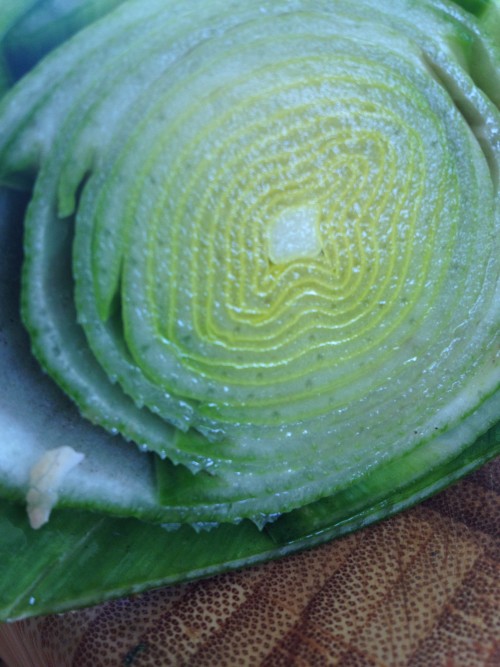 This dish blends the sweet-citrus of orange, the creamy nuttiness of leeks, and the anise accent of fennel. This side dish will surely wow your guests at any dinner party. But don't reserve making this for special occasions, it is delicious any night of the week.
6 leeks (about 3 lbs.) trimmed of all cut 2 inches of greens
1 tsp salt, divided
1/2 lemon, cut in 2 pieces
2 bay leaves
2 cups orange juice
1 small vine-ripe tomato (5 ounces), seeded and halved crosswise
1/4 tsp crushed fennel seeds
1/8 tsp fresh ground black pepper
1/2 tbsp olive oil
Cut leeks in half lengthwise to within 1-1/2 inches of root end. Rinse under running water, be careful to rinse out all sand between layers of leaves.
Combine leeks, 3/4 tsp salt, lemon and bay leaves in large skillet or Dutch oven. Add water to cover and bring to a boil. Reduce heat, cover and simmer for 15-20 minutes, or until tender; turn leeks halfway through cooking. Drain and place in serving bowl just large enough to hold them (11 X 7″)
Meanwhile, combine orange juice, tomato halves, fennel, pepper and remaining salt in the same skillet. Boil 8 minutes or until reduced to 1 cup, pressing down on tomatoes to flatten. Discard tomato skins. In a blender, process mixture and oil until smooth. Pour over leeks so that they are almost submerged in juice. (Note: If leeks are not submerged, place all in food storage bag, push out air and seal bag).
Cook to room temperature and refrigerate at least 4 hours, preferably overnight. Let stand at room temperature for 1 hour before serving.

Print Friendly