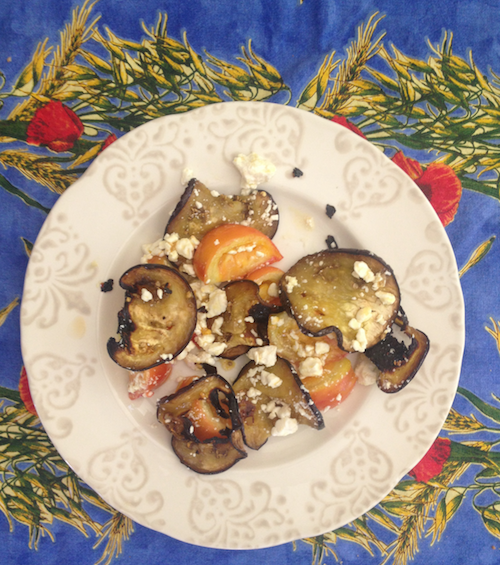 This quick, easy and tasty recipe is a great way to enjoy two of the season's best – tomatoes and eggplant. A great salad to start the meal, or make it for a light dinner.
1 large eggplant (about 1-1/2 lbs), but into 1/2-inch thick rounds
1/4 cup extra-virgin olive oil, plus more for drizzling
1-3/4 lb mixed tomatoes, small ones halved or quartered, large ones cut into 1/4-inch thick rounds
coarse salt and freshly ground pepper
6 ounces feta, crumbled
1/2 cup mixed olives
1/2 cup lightly packed fresh flat-leaf parsley leaves
bread, such as baguette, for serving
Preheat broiler with rack 6 inches from heat source. Place eggplant rounds on a wire rack set on a rimmed baking sheet. Broil until eggplant is blistered and deep brown on one side, 10 to 12 minutes. Flip and broil until blistered on other side, 10-12 minutes. Immediately transfer to a large bowl, toss with oil, and cover with a plate. Let stand until softened, 10 minutes.
Arrange eggplant and tomatoes on a platter, seasoning each layer with salt and pepper and drizzling with oil before adding the next. Top with feta, olives, and parsley, and serve with bread.
Source: Marthastewart.com

Print Friendly