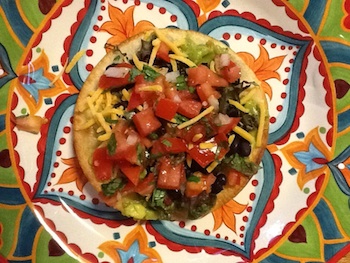 Use this recipe as is, or add your own favorite ingredients. Tostadas are a perfect meal, snack, or appetizer for so many occasions.
1, 15 oz can of black beans
1/2 tsps garlic salt
1 tsp chili powder
6 whole-wheat tortillas
1 tbsp Olive oil
2 oz Monterey Jack Cheese, grated
4 cups frozen corn, thawed
1 cup grape tomatoes, quartered
1 avocado, diced
1 bunch scallions, chopped
1 large lime
Preheat oven to 475 degrees.
In a small bowl, combine black beans, garlic salt and chili powder. Divide the bean mixture into two parts.
Brush both sides of tortillas with olive oil and place on a baking sheet. Top three of the tortillas with cheese and half the seasoned beans and leave the other three tortillas with just olive oil. Set the other half of the beans aside. Heat tortillas in the oven for about 10 minutes.
While the tostadas are heating, in a large mixing bowl, combine the corn, tomatoes, avocados, scallions and lime juice. Divide the corn relish into two parts. Combine one part of the corn relish with the reserved beans.
When tortillas and beans are thoroughly heated, remove them from the oven. Cut the plain tortillas into bite sized strips to eat dipped in the seasoned bean corn relish. Finish the bean and cheese topped tortillas with the reserved corn relish and enjoy.
Serves: 6

Print Friendly