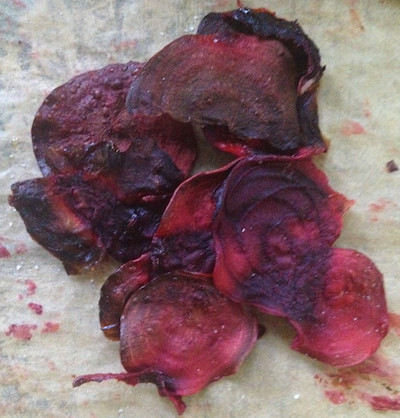 When the CSA delivery gives you beets, make beet chips. These delicious and healthy snacks are a hit with just about anyone — even those who are not fond of beets. With a delicious sprinkling of sea salt, they'll be gobbled up before you know it.
3-4 medium beets
1 tbsp olive oil
sea salt and pepper to taste
Preheat oven to 325 degrees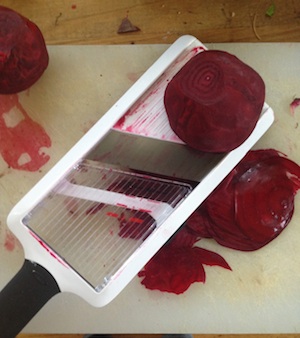 Peel the beets with a vegetable peeler and with either a mandolin or sharp knife, slice the beets as thin as you can (the thinner the better). Lay beet slices in a single layer on a baking tray covered with parchment paper. Brush olive oil over the slices and sprinkle with salt/pepper.
Bake for 30-40 minutes (time will vary based on how thin you sliced – start checking after 25 minutes and go from there.) The chips should be reduced in size and cispy. Remove from oven and let sit on the tray for 10 minutes to let cool.
serves 2

Print Friendly