If you are looking for a delicious, basic, all-around recipe, this one does the trick. Use as is, or tweak the recipe by adding ginger, cinnamon or cocoa powder, this is ideal for everything from thumbprint cookies to cutouts.
3 cups all-purpose flour
3/4 tsp baking powder (omit if making thumbprints, ball cookies, or spritz cookies)
1/2 tsp salt
2 sticks unsalted butter
1 cup sugar
1 large egg
2 tsp pure vanilla extract
Whisk together flour, baking powder, and salt in a large bowl. Beat butter and granulated sugar with a mixer on medium-high speed until pale and fluffy. Beat in egg and vanilla. Reduce speed to low. Add flour mixture, and beat until combined.
For cutout cookies, shape dough into 2 disks, and wrap each in plastic wrap. Refrigerate until firm, about 1 hour.
Roll out 1 disk on a lightly floured piece of parchment to a 1/8-1/4-inch-thickness. Repeat with remaining disk. Refrigerate until firm, about 30 minutes.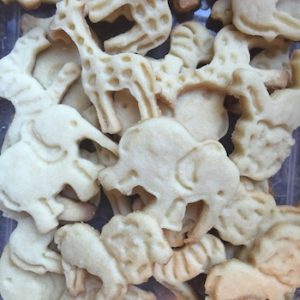 Cut out desired shapes. Bake at 350 degrees F until cookies are firm, 12-15 minutes.
Source: marthastewart.com
These fun Animal Cracker Cookie Cutouts from HIC, Harold Import Co.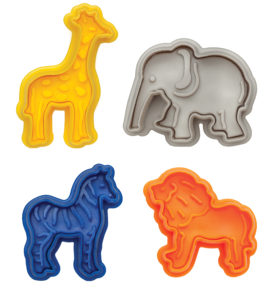 Print Friendly