It's cookie-baking season, and the house is filled with cheer. But, with everything else that is going on, I want to ensure that I continue to maintain a bit of cheer when baking. Nothing can be more frustrating than taking the time to bake cookies and not have them come out properly. I want each and every one of them to be evenly browned and evenly baked, with no burnt, broken or uncooked insides!
Yes, a great recipe, quality ingredients and attention to detail are all essential when baking cookies, but a big part of success is a quality cookie sheet. Simply put, warped, scratched, dented and flimsy sheets are a disservice to your delicious recipes.
Before you get deep into baking holiday cookies, take the time to assess your current collection of cookie sheets. After all, your cookie sheet can make or break your batch. Recently I had the opportunity to research and test test a variety of baking sheets for an article on cookware and bakeware that will appear in the January 2015 issue of Consumers Digest. I've gleaned some thoughts from my research and offer insight below.
What to Consider
There are many things to consider when choosing a cookie sheet– from size to material to coating. You will also need to  take stock of exactly how you bake and cook, as that will help you determine which sheet is best for your needs.
To start off with, pull out your cookie sheets and assess what you have. Ask yourself a few questions:
Is the cookie sheet  is warped, dented or scraped? If so, it is time to replace it.
Are your existing sheets too small or large for your needs?
Do you have enough cookie sheets for your needs?
How do you use your sheets? If you bake, cook, or roast on them, are they the right size, material, strength, or design?
How do they fall short of your expectations? Think back to when you use them and those mental notes that you make, but may forget to act upon.
Making the Choice: Cookie Sheet or Jelly Roll?

First off, let's discuss the style of sheet. Some of us use cookie sheets, while others use a jelly roll pan. The difference is simple: the jelly roll pan has sides, while the true cookie sheet does not. The advantage of the jelly roll pan is the sides – which means it is a bit more versatile if you use these pans for roasting vegetables or meats, for example. It helps keep juices contained while in the oven. On the other hand, the cookie sheet comes with no sides  – or at least one end without a side – so that cookies can easily slide off once baked.
* Remember, every household should have several cookie sheets/jelly roll pans on hand, so you might opt for one or two of each.
Nonstick or Uncoated? It is all up to you, and of course, what you are cooking. Die-hard bakers will opt for a heavy-gauge, uncoated pan, using parchment paper or silicone liners (such as Silpat), to provide the 'nonstick' capabilities. On the other end of the spectrum, bakers like the convenience of a nonstick coating — not only for quick release of baked goods, but quick and easy cleanup.Keep in mind, at some point you will need to replace the nonstick sheets as the coating will eventually wear off. It's truly a matter of choice – and, the material of the pan is more important.
Material: Heavy duty aluminum cookie sheets are a great choice because aluminum conducts heat very well. If you choose and all-aluminum sheet, opt for the heavy duty to ensure greater durability. It is important to note, that while aluminum sheets are affordable, they react to acidic foods (think tomatoes), so if you are using them for roasting, this would not be the best choice. There is an option that give you the best of both worlds – An aluminized steel sheet is dipped in an aluminum coating, resulting in a sheet that has great heat conduction and strength, and durability.
If you eschew nonstick, choose an uncoated stainless steel that is made of heavyweight-gauge 18/8 stainless steel. It will provide the durability, sturdiness and rust resistance you need for years to come.
When choosing a sheet, keep in mind that dark colors absorb the oven's heat. As a result, their use may require you to adjust the temperature slightly lower to prevent burning or scorching.
Air-cushioned or insulated: With these, you'll get soft light colored results, that rarely burn. (However, if you desire crispy edges and browned bottoms on your cookies, these are not the choice for you). But, if you are baking thin, delicate cookies, the insulated sheets keep them from browning too quickly. They produce evenly baked and colored results — Because they are insulated, they conduct heat slower than a non-insulated sheet. Therefore you may need to modify your baking time.
Size: Cookie sheets come in various sizes (and most are rectangular, but some, like the Le Creuset sheet mentioned below, are square.) Most conventional ovens are 22 inches wide, so purchase accordingly – a 13 X 18″ sheet would be ideal. Similarly, if you are baking in a toaster oven, you'll need to purchase one that will easily slide in and out, without rubbing against the sides of the oven.
Other Design Features:
Handles: Some pans are designed with handles to make it easy to remove the pan from the oven – while you have oven mitts or hot pad. These come in handy, and those with silicone inserts on the handles even provide greater grip-ability when maneuvering in and out of the oven.
Targets: Some cookie sheets come with targets embossed directly onto the steel sheet. This provides a guide as to where to place the cookie dough to ensure they have enough space to bake and not attach to each other.
Test Kitchen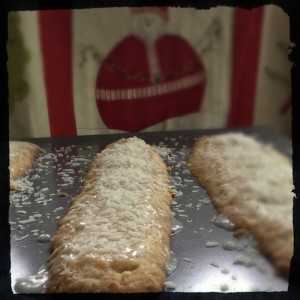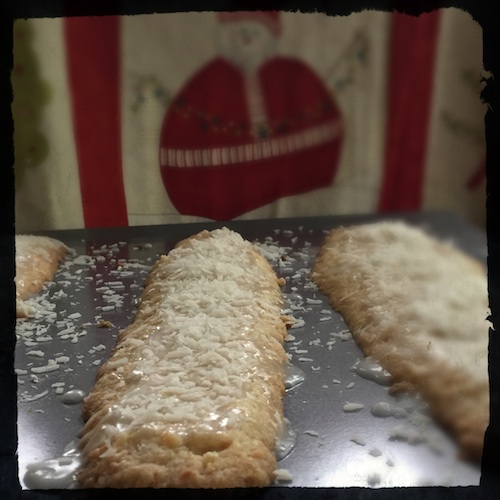 It was my first try with an insulated cookie sheet, and the new Calphalon 14" X 16" insulated cookie sheet did not disappoint. My mother's Coconut Diagonals recipe turned out perfectly. The heavy gauge steel core heats evenly without browning too quickly, and the interlocking nonstick layers provided for easy release, even for the most delicate of cookies. With a full lifetime warranty, and a dishwasher safe rating, this cookie sheet will definitely hold a permanent place in my collection.
Baker's Secret Signature (from World Kitchen) is a great value, offering me the confidence that my efforts will come out perfectly baked. Sturdy commercial weight bakeware, and an advance nonstick make this sheet is a great all-around cookie sheet that is used for everything from cookies to pizza to roasting vegetables. Dishwasher and metal spatula safe,
Another first for me is the cookies sheet with cookie dough targets, so that the cookies do not fuse together when baking. The Bakers Advantage 13" X 9" sheet (from Lifetime Brands/Roshco) features a durable non-stick coating for better browning and quick release – and it is even metal spatula safe! The heavyweight metal distributed heat perfectly, giving me great results time and time again. I also like it's design, with edges on three side, and a tapered edge (opposite the handle) that allows for easy removal of cookies. Add to this, the sheet is dishwasher safe.
The Bialetti Aeternum Nonstick Cookie Sheet – Using this rimmed pan makes me smile. Not only does it perform well, but the bright white ceramic nonstick interior and colorful exterior put a whole new spin on baking cookies – and whatever I find myself using it for. Sure, you wont' eat out of the pan, but a bit of color just makes things more enjoyable. The 11" X 17" sheet features a heavy-grade steel construction for durability and a ceramic nonstick coating that is considered eco-friendly.
Cookies, scones, jelly-roll cakes and meringues – all call for using my Le Creuset Square Baking Sheet. Measuring 14" X 14 ½",the sheet is equipped with a wide rim that features heat-resistant silicone for added grip, making it easier and safer to transfer a full pan to and from a hot oven. Constructed of heavy-gauge carbon steel which maintains even heat to prevent hot-spots and scorching, and coated with a durable, PFOA-free nonstick.

Print Friendly