This past weekend, a two-day art festival was being held at the park across the street. That meant we'd have a constant flow of cars and foot traffic passing by our house throughout the weekend. A light bulb went off in my head. This would be a perfect time to go through all those boxes in the attic and get rid of those things we've moved from one house to another to another . . .
Then, a light bulb went off in my son's head as well. "Why don't we have a bake sale, too?"
Then, Nicole suggested, selling notecards with her drawings on them.
Yes, a bake sale. I agreed. And, all the kids wanted to get in on making notecards. I agreed on that front, too. The cookies and muffins would be a perfect  way to draw more attention to the yard sale, and the handmade notecards would be the ideal thing to sell during an art festival.
We got to baking (and drawing). The kids helped a bit the night before, as we made two batches of chocolate chip cookies, and one of snickerdoodles. We then talked about pricing, and signage, and went to bed with a plan for the next morning.
As it turns out, our Saturday yard sale plans had to be altered. Two soccer games and continual downpour made us scrap our plans to fill the yard with furniture, books, and those kitchen items we haven't used in years. But, a late afternoon break in the rain – and a steady flow of festival-goers –  led the kids to set up a table and get selling.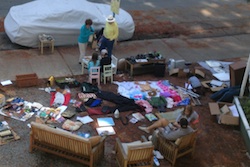 As I watched from the front window, the kids set up their table, hung their signs, and got to announcing the cookie sale to anyone who passed by – on our side of the street and the other.  They were busy for the next 2 hours, passing out cookies and making change until they had sold their last cookie.
They ran up the stairs excited about what the next day would bring. They needed more cookies, so we got baking.
The next day, they were back out front at 9:30 a.m. ready to start the day. Throughout the day, they took turns manning the table, and at one point, when cookies and blueberry muffins were all gone, my son took some of the earnings and walked down to the store for more butter and chocolate chips so they could continue to sell throughout the day.
While they took a break, I quickly baked a batch of chocolate chip cookies. As they came out of the oven, I took them down immediately so they could sell just-out-of-the-oven cookies.
The day ended, and they had a jar full of money – along with smiles on their faces. They were planning how they would use their money.
When we were all cleaned up from the sale, we came up and counted their earnings, subtracted the cost of the ingredients used, and then split between the four of them.
Throughout the weekend, as I watched this entire process, I learned a lesson or two from their efforts:
EVERYONE loves homemade. So many asked the kids if they were homemade cookies (and, asked if they helped make them). Too often school bake sales and snacks for after soccer games are filled with store-bought cookies. While a great treat, the homemade cookies always seem to light up everyone's faces. And, because they had participated in the process of making the cookies, the kids became engaged in a conversation with their customers when asked about it.
The kids had a sense of ownership to the cookies being sold. It was their project, they knew what it took to get the cookies baked, price them, make signs, and work throughout the day. Had they been purchased at a store for resale, the connection wouldn't have been there for them.
They got to practice a bit of math, making change all day long.
Homemade cookies don't need to be perfect. Even if they aren't the best looking or best tasting cookies you've ever made, the fact that they were homemade goes a long way. The customers loved them, and many left a tip for the kids' effort.
Some chocolate chip cookie recipes are much better than others. Day 1 cookies were made using one recipe (which, I didn't feel produce great results – they didn't spread out enought). But, Day 2 cookies were made using Ghirardelli chocolate – and the recipe on the back of the bag. We received so many more complements on the cookies from that batch. That I have made note in my  cookbook not to make the recipe we used to bake the first day's cookies.
With that said, I must share the recipe with you:
Ghirardelli Milk Chocolate Chip Cookies
Ingredients
2 ¼ cups unsifted flour
1 tsp baking soda
½ tsp salt
1 cup (2 sticks) butter, softened
¾ cup sugar
¾ cup brown sugar, packed
2 tsp vanilla extract
2 eggs
2 cups Ghiradelli Milk Chocolate Chips
1 cup chopped walnuts or pecans (optional)
Instructions
Preheat oven to 375 degrees F. Stir flour with baking soda and salt; set aside. Beat butter with sugar and brown sugar at medium speed until creamy. Add vaniulla and eggs, one at a time, mixing on low speed until incorporated.
Gradually blend dry mixture into creamed mixture. Stir in chocolate chips and nuts (if desired). Drop by tablespoon onto ungreased cookie sheets. Bake for 9 to 11 minutes or until golden brown.
Yield: 4 dozen cookies
http://familyeats.net/bake-sale-lessons-learned/

Print Friendly