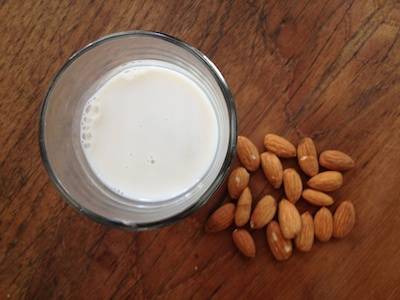 "In general, interest in healthier beverages is growing as consumers make better beverage choices based on more transparent labeling and more information available on the negative effects of added sugar and non-natural ingredients," says Greg Steltenpohl, CEO of Califia Farms. Perhaps, this is one of the reasons the company's newly introduced Almondmilk line, which is  set to capture the growing demand for almond milk.
Almond milk is a milk substitute that is made simply with ground almonds and water. It is growing in popularity as an alternative to cow's milk, and has enjoyed steady growth and interest as an alternative to soy or rice milk.
Its appeal is the fact that almonds are one of the healthiest nuts around. One cup of almonds provides 25 percent of an individual's calcium requirements. It contains more vitamins and minerals than soy or rice milk, (although soy has lots of protein). And, unlike soy or rice milk, almond milk does not need to be fortified. It is ideal for those who are lactose intolerant, but offers nutrition for everyone who is looking for a tasty and healthful drink.
"Almondmilk has seen enormous growth since its introduction –higher growth, in fact, than when soy milk was introduced to the market," says Steltenpohl.
Good for your heart, almond milk does not contain saturated fats or cholesterol. It is low in calories, low in carbs, and high in a variety of vitamins and minerals, making it a perfect milk substitute for those looking for an alternative to milk – or milk substitutes.Offering a light nutty flavor, but nothing overpowering, almond milk can be substituted for milk in any recipe from pancakes to spaetzle (We've enjoyed both of these family favorites made with Califia Farm's Almondmilk.)
"An important differentiator for our Almondmilk is that it has 50% more calcium per serving than cow's milk. This benefit appeals to milk consumers who drink dairy because they believe it is the only way to get calcium," says Steltenpohl, who adds, "Our Almondmilks have seen enormous success since their introduction because of their healthfulness . .  and because of their clean, great taste," says Greg Steltenpohl, CEO of Califia Farms. "We think consumers are looking for the same thing across all beverages – drinks they can truly feel good about drinking. Consumers want drinks that make them feel good, and it's not rocket science . .  all natural beverages taste better and make your body feel better."
Why not give almond milk a try? I'm glad that we did.
The Califia Farms newly launched line of Almondmilk is set to appear at retail, and will include Original, Vanilla, and Unsweetened, along with a few ice coffee with Almondmilk varieties. Visit the website for more information.

Print Friendly