With the re-launch behind us, I'll be revisiting the A Year in Our Kitchen series . .  which, got sidelined this year. This week, we'll pick up with week 7.
***
Fear – A response to physical and emotional danger.
And, I feel it. Fear is a legitimate threat when I enter the kitchen. No, not the fear associated with the actual cooking of something. I like to take on new cooking challenges, and have even been known to eschew the warnings about trying a new recipe before offering it up to your guests at a dinner party.
No, my fear is more emotional. It is the fear of cooking something for dinner that will not be universally loved. A fear of losing it on the kids when I finally sit down to enjoy my dinner, and they complain, droop their shoulders and whine about not liking the meal.
When the kids were younger, I was steadfast in following the "You just have to keep putting the food out in front of them. Eventually they will come to like it (or, at least 95% of the time)" mantra. With each of my kids, this tactic has worked.
But, there is something about the kids being older that puts a fear into my mealtime. Perhaps it is their ability to more vehemently deny dinner. The signs of dislike – the eye rolls or verbal assaults on the meal even before I begin to prepare it, coupled with my early evening exhaustion, often lead me to choose the easy way out — preparing something that I know I'll at least get a half a thumbs up from each of the kids. (And, as you all know, there are few meals that EVERYONE at the table will universally love.)
I know my previous bad experiences in the kitchen (and at the table) are what triggers that fear response within me. But I also know, that exposing myself to my personal demons is the best way to move past them.
Yesterday, I took the first step towards conquering my fear.
Desperate to try to add new meals into our weekly menu, I finally acquiesced to my inner cook and kept the planned Chicken Pot Pie on our menu.
My mind was racing with all the things that could go wrong – knowing the inside of the pot pie could be unappealing for a child, thus superseding taste . . . or someone's disdain for cooked carrots, or . . . well, you get the picture.
I have to admit that the reason I decided to go through with it was because I knew that Greg would be home for dinner. I wouldn't have to go it alone. I would have him to help coaxing, cajoling, or demanding the kids to eat a few more bites.
In preparation, I built it up with the kids when they asked what's for dinner.
"We're having pie for dinner."
"What?" they asked.
"Yes, Chicken Pie. When was the last time you had pie for dinner?"
I left it at that.
I had never tried making my own chicken pot pie, so I was treading new ground. I wasn't even sure how this would turn out. Pleasantly surprised how easy it was to make, I  prepped the pie to the point that all that needed to be done was place it in the oven for 30 minutes before dinner – which Greg would do while I was with the girls at gymnastics.
When we walked it smelled like comfort food. The girls immediately noticed, and said, "Oh that smells good."
"Let me see the pie," said another, who followed up with "Oh, that looks good."
I kept quiet. I kept my excitement a bay. I continued to be skeptical.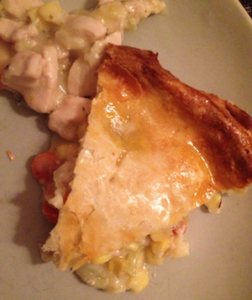 A few minutes later, we all sat down and Greg dished out the pot pie. As usual, Grayson wanted to give it a try immediately. Addie noted that she didn't like it ..  as it was being placed on her plate. The other two, let their crinkled faces do the talking.
I remained quiet.
One by one they tasted dinner. One by one I received thumbs up (although one of them was only a ½ thumbs up).
Things were looking up for me, and my fear of trying.
By the end of the meal, the kids were asking to have the pot pie in their lunches the next day, and Keely was asking if we could have it for Christmas dinner.
This morning, I am still basking in the glow of success. But I am also kicking myself for not having added a chicken pot pie to our menu before.
Today's Lesson: Don't let your fears hold you back. Go ahead make it. The worst that could happen is that you'll have leftovers. Of course, we have none today.
What are your fears in the kitchen?
If you're in need of a new pot pie recipe, here is the one we enjoyed last evening.
Chicken Pot Pie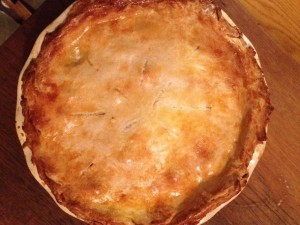 Salt and freshly ground pepper
1cup sliced peeled carrots (1/4-inch slices)
1 cup shelled fresh peas of thawed frozen
1 cup corn kernels (2 or 3 ears)
2 tbsp salted butter
4 skinless, boneless chicken thighs, about 1 ¼ lb total weight, cut into bite-sized pieces
2 tbsp chopped shallot
¼ cup all purpose flour
1 ½ cups chicken stock
½ cup dry white wine
½ cup half-and-half
1 tbsp chopped fresh flat-leaf Italian parsley
1 egg yolk beaten with 1 tsp water
one 9-inch pie dough round, handmade or purchased
Preheat oven to 400 degrees F. Bring a saucepan three-fourths full of lightly salted water to a boil. Using a pasta insert or large sieve, immerse the carrot pieces and peas in the water and boil until crisp-tender, 3-5 minutes. Lift out, drain, and transfer to a bowl. Repeat with the corn, boiling for 1 minute. Set aside.
In a large frying pan with a lid over medium-high heat, melt the butter. Add the chicken and cook uncovered, stirring occasionally, until browned on all sides, about 8 minutes. Add the shallot and cook, stirring, until softened, about 2 minutes.
Sprinkle in the flour and stir well. Stir in the stock, wine, half-and-half, and parsley, and bring to simmer. Cover, reduce the heat to low, and simmer for 10 minutes. Stir in the carrots, peas, and corn. Season with salt and pepper. Transfer to a 9-inch deep-dish pie dish.
Brush some of the egg yolk mixture in a 1-inch border around the edge of the pie dough round. Place the round, egg side down, over the filling, and press the dough to the rim of the dish. Trim off any overhanging dough and brush the surface lightly with the remaining egg yolk mixture. Cut a few slits in the center of the top with the tip of a knife.
Place the pie dish on a baking sheet. Bake until the crust is golden brown, about 30 minutes. Serve hot.

Print Friendly