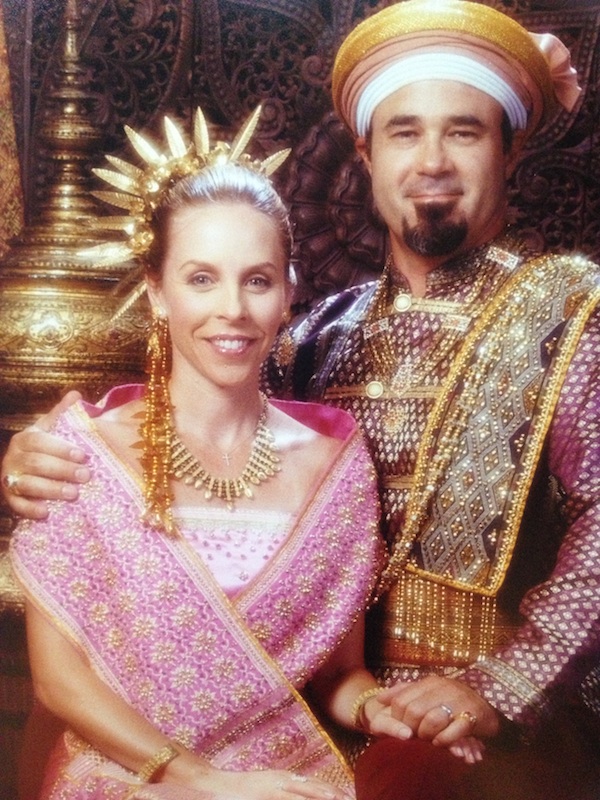 At times, I'm inspired to get out of my comfort zone and try a classic cuisine I'm not so familiar with preparing.  This time around, when the inspiration hit, there was no wavering here. Without a doubt, without another thought, I knew I wanted to capture the authentic and vibrant flavors of Asian cuisine.
Like so many Americans, inspiration for attempting new meals in our own kitchens comes from travel. Almost a decade ago, Greg and I spent nearly three weeks traveling the back roads of Thailand in search of great adventures and great food.
As we traveled from the islands of the south to the northern corners we marveled at the gold-gilded wats and the hieroglyphics on caves, rode tuk tuks and long boats, had monkeys sit on our backs, then sat on the back of an elephant. Along the way we ate like royalty. We eschewed fancy hotel food for street food, floating market food and local favorites. We ate the way the Thai people ate.
We enjoyed a truly authentic experience, an experience that, for the past decade, I have tried to replicate here at home. But in all honesty, my attempts have fallen miserably short. Not so miserable that we can't eat the meal, but miserable in its lack of authenticity. I have been unable to capture the full, vibrant, exotically authentic experience we enjoyed on the streets of Thailand.
I ask myself, why?
Well, probably because in order to authentically recreate a meal, you need the proper recipe, the proper ingredients, proper tools and proper techniques.
And there is no doubt that my previous attempts fall miserably short on that list.
I've an Anglicized version of chow mein my Mother gave me. I often substitute my olive oil for the sesame or peanut oils listed in recipe. I'm ashamed to admit it, but I didn't even have a wok until relatively recent times (so much for having proper tools). And, when it comes to preparing the meal, I often rely on my own cooking techniques rather than taking the time to learn the techniques of Asian cooking that make the meal come together.
When I think about it – I guess I had only been sticking my big toe in the Asian waters. This time I was jumping in – immersing myself in the cuisine.
I promptly dug out my authentic Asian cookbooks – the ones that previously served as bookends to my dog-eared Italian cookbooks – and began searching. I dug up Barbara Tropp's The Modern Art of Chinese Cooking (William Morrow), Martin Yan's Culinary Journey Through China (KQED Books & Tapes), Helen Chen's Easy Asian Noodles (Wiley) and David Thompson's simply titled, Thai Food (Ten Speed Press).
spent a good amount of time reading and re-reading recipes. I was in search of great tasting, satisfying recipes, but I needed to find something that wouldn't set me into a frenzy in the kitchen with excessive preparation, AND wouldn't set me into a frenzy at the table – when the kids refused to eat it. All the while, I needed to keep in mind the elements of creating authentic cuisine – proper recipes, proper ingredients, proper tools and proper techniques.
Proper Recipes
For this challenge, I only considered those cookbooks that offered authentic Asian recipes. Naturally I was drawn to Thompson's Thai Food, with his vibrant photos and exciting recounting of colorful history that really draws you into the recipe and transports you to the place. I chose the Grilled Bananas with Grated Coconut and Salt because it was reminiscent of the day we spent eating our way through the streets of Chiang Mai, where the street food was wrapped in leaves or a fruit's own skin; No bowls to discard, just delicious food to consume.
Proper Ingredients
Any chef will tell you that you can't prepare an authentic meal without a bit of authentic ingredients. It's the terroir, the history of a place, the techniques in creating that food or ingredient, that make up a dish. Therefore authentic ingredients are essential. So, when I looked for a little Asian snack and came across Yan's Honey-Glazed Nut Snacks, a Chinese-style nut brittle, I was excited. The snack's key Asian ingredient is the Chinese five-spice. This spice encompasses the five taste sensations – sweet, sour, bitter, pungent and salty – and when used appropriately in this snack it creates the savory sensation of umami! Not only for this recipe, but for all four I was making, I needed the proper Asian ingredients. Off to the Asian Market I went.
Proper Tools
During a discussion I had with Helen Chen a while back, she talked about essential Asian kitchen tools, including the electric rice cooker (or her porcelain rice cooker), a bamboo steamer, a stainless steel skimmer, and the wok. As she explained it, "The wok wasn't immediately popular when it first became widely available in the U.S. This was because it's design was not conducive to use on American stoves, which had flat surface burners set relatively close together."
It wasn't until her mother, Joyce Chen, invented the original flat-bottomed, stir-fry pan in the late 1960s, that the wok became a popular piece of cookware throughout the U.S. "In addition to flattening the bottom of the pan to enable it to work on Western stovetops," she added, "the pan was smaller and included a long handle, making it more convenient for Western cooks." This stir-fry pan, often called the Peking Pan, or a traditional wok is required to create a host of Asian recipes, including my choice, Helen's own recipe, Beef and Broccoli on Crispy Noodle Cake. Not only would it require me to FINALLY add a wok to my collection of cooking tools, but it gave me a new perspective on noodles – pan friend instead of boiled. (It also gave me the ability to sell the meal to the kids as a crispy Asian pizza.)
Finally, I needed
 Proper Technique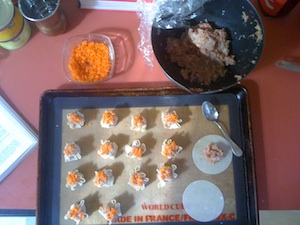 The process of stir-frying requires quick movements,  deep-frying requires a precise oil temperature, and dumpling making requires a bit of finger dexterity. I needed some insider tips to ensure my Shao-Mai Dumplings wouldn't fall apart during steaming. (After all, it was my first attempt at any Asian dumpling recipe).
I read and re-read Tropp's recipe, technique notes, and studied the drawing of what the dumpling – complete with its empire waste and carrot crown – should look like. I employed her four-finger approach as I lifted, rotated, and poked the dumplings repeatedly until the wrapper was securely pleated around the filling. Thank you Barbara, I'm sorry it took me so long to ready your words of wisdom.
The Results
I have to admit that I had a perception that Asian food is complicated. Most recipes have a long list of ingredients, and even longer set of instructions that I hesitated even considering making an Asian meal. This time around –prepared with the proper recipes, proper ingredients, proper tools and proper techniques, the dinner was truly a success (with only a few of the dumplings falling apart). My previous notions are dispelled. Even before the meal was set on the table, I was pleasantly surprised – and so was Greg. There was a calm coming from the kitchen. There was no frenzy, no yells for kids to get out of the kitchen, no second guessing my choices – just excitement over what I was creating – and just as much excitement eating it.
A sign outside one Chiang Mai wat reads, "Practice is better than theory."
As a result of my recent experience, I am dedicated to "Authentic" practice.

Print Friendly