I love this soda and I love this story. I could leave it there, but I thought I'd share with you the reason Silk Road Soda is one of my recent Favorite Finds.
Through the years I've taste-tested products at trade shows, enjoyed samples sent to my home, and listened to many company owners talk about how great their product is. Through it all, I've experienced many more misses than hits.
This time, it is surely a hit. As most of you already know, we are not a soda-drinking family. But, we did recently taste some soda that is testing our resolve to continue as non-soda drinkers.
Here's how it happened:
I was foraging through the aisles at the Winter Fancy Food Show, covering the beverage category, when I stumbled upon Silk Road Soda. I liked the packaging, and the young man behind the table had a smile that said, "Come on over and taste this, you won't be disappointed."
As I usually am (due to my years of trying new products at trade shows), I remained skeptical about what I was to taste, but he had caught my eye, and I couldn't be rude.
The man behind the table was Payam Fardanesh, co-founded of Silk Road Soda. And what I was about to taste was a bit of Fardanesh's family tradition. The story he told me began in Iran, where Fardanesh grew up. It was a story that held food and family traditions at the center of it.
When he came to the U.S., he realized that this attitude towards eating around seasonal and local foods, was not a strong as in his native country. "I grew up with a culture that revolved around using fruits and vegetables that were in season," he explains, "Watermelon in the winter just doesn't register with the body," he added.
When he was older, he took to holding large dinner parties with his friends – cooking for up to 20 at a time. And, because he was cooking his native Persian cuisine, it was a long process of cooking.
"Persian food is intricate, and takes a long time," Fardanesh says. "So, I started making a drink for my friends that could be enjoyed during the hours we waited for the meals to be made. I have always used my food to introduce friends to my culture, and as part of that I would make batches of a drink my grandmother would make for use back in Iran. She used to cook this in an open pot in the kitchen. It was always messy with vinegar and sugar, but always delicious. It was a hit with his friends, and they eventually encouraged him to bring the beverage to market.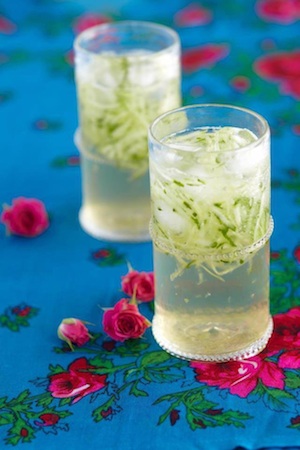 Of course, what he brought to market is not exactly what he (or his grandmother) cooked up on his stove, but it bears resemblance. "I had to carbonate it to fit in with the American palate. When prepared the traditional way in Iran, it is syrupy, almost as a salad dressing," he said, explaining that it is often enjoyed drizzled over a sumer romaine lettuce.
Part of the change was to reduce the amount of calories, but still using cane sugar as in the traditional recipe. "I'm trying to mimick my culture, so when I was developing the drink for market, I was askd to use stevia, agave or other newer sweeteners, and I thought, that's not the way my grandmother did it. But, I was also aware that the calorie count was high." In the process of reformulating for the American market, Fardanesh was able to tweak the recipe, which included increasing the carbonation, in order to reduce the calories, yet keep the flavor profile the same. The line currently includes Original Mint, Cucumber Mint, and Pomegranate Mint — and, he likes to use the term Mediterranean Refresher (as opposed to soda)
When asked to describe the flavor profile Fardanesh says, "The flavor is a sweet and savory mix, a brisk vinegar taste but not harsh. It's a quick flavor, that you can actually inhale and smell."
The cucumber and mint is his grandmother's flavor – she used the cucumber to make the base drink by cooking the sugar, vinegar and water together, the vinegar disspates and when the sugar carmalizes, you drop in the mint and it infuses the drink.
Because this recipe is based on tradition, Fardanesh is determined to keep the traditional flavors alive, without much addition of new trending flavors. With that said, in the spring, he will introduce a ginger flavored soda. It will still have the vinegar base, but with a slight ginger accent," he explains, noting that ginger is a Mediterranean flavor. "While the Persians drink it with cucumber, the Greeks drink it with ginger. As for the pomegranate, it is native to Iran and very popilar there. "We eat pomegranates like Americans eat apples."
What this line is meant to do is to give consumes a glimpse into life into the culture in which he grew up. Thanks, Payem, for welcoming me into your home . . .
Go ahead, give it a try, visit Silk Road Soda to find where they are distributed in your neck of the woods.
Delicious as a soda, Silk Road Sodas are also a great base for a cocktail. Enjoy the Classic Silk & Spice or this one for:
Pimm's Silk Cup
inspired by Brad peters, Hock Farm Crafts & Provisions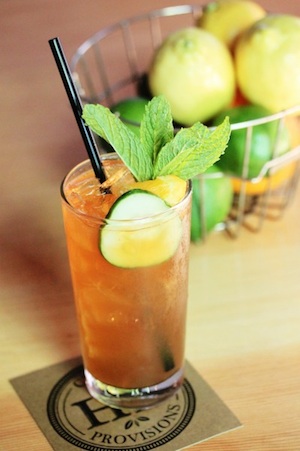 3 oz. Silk Road Soda – Cucumber Mint
1/5 oz. Pimm's No. 1 Cup (GIn)
1/4 oz. lime
Splash of cranberry
Mix all in a collins glass on ice.
Garnish with a mint sprig

Print Friendly