It's that time of the year again  – when I head to Chicago to attend the International Home & Housewares Show. It is a whirlwind few days of circus-like atmosphere where I hurry from booth to booth trying to see all of the newest items from companies ranging from Meyer and Cuisinart to Keurig, X nd X. While doing so, I catch a glimpse of the Cake Boss, Cat Cora, Michael Simon and other cooking personalities, while I'm nibbling on cannoli, drinking cappuccinos, and gathering inspiration for cooking things up when I get home.
Here are a baker's dozen of new items that I have decided are my current Favorite Things.
1. The Lekue Lemon and Lime Spritzer lets you turn your citrus fruit into the freshest juice
container! Spray directly from fruit to dress your recipes or aromatize your soft drinks and cocktails in the freshest way! The set includes one large and one small citrus sprayer and a dish to set it in. The larger spritzer can be used for lemons, oranges or grapefruits, the smaller one for limes or tangerines. The spritzer set retails for $15.
2. I immediately fell in love with everything on display at the Kinto Booth, but it was the
compact and oh-so-beautiful to look at Couleur that really caught my eye. The new teaware design is a mixture of style of a modern form design and Japanese classic teapot function. It consists of three parts – the pot, cup and saucer – to create a compact form designed for brewing tea. And, there is no need for an added strainer, as the spout is covered with a small porcelain colander.
3. I love olives, and not with the new Charcolive 
Food Saver and Fridge Saver, I love them even more. This 100% natural absorbant charcoal is made from the recycled by-product of olive production (i.e. the pit), and then using a patented technology, charcolive creates a porous structure that has a high capacity for absorbing odors. It also absorbs ethylene, which is emitted from fruits and vegetables and gives the signal for the onset of ripening. By absorbing the ethylene, it keeps them fresher. Throw away your baking soda (it's 20 times more effective than baking soda) and stop throwing away your fruits and veggies. With a suggested retail price of $5.99, freshness can't be beat.
4. The Emile Henry Bread Cloche is calling my name. Designed to recreate the same
conditions as a traditional bread oven so that the bread is light inside but has a crispy crust. Creating constant humidity while baking to create a, light firm inside, crispy crust, you'll enjoy baking bread just as we do. Available in rouge, the retail price is $130.
5. Cuisinart Combo Steam + Convection Oven is
truly a unique oven that incorporates all the functions of a professional steam oven in a countertop footprint. It's a countertop convection oven with full steaming capability, which cuts cooking time by as much as 40%! Choose from 9 single and combination functions. Steam or poach any type of vegetable, fish, poultry or rice… or use steam in combination with both Broil or Bake functions to create roasts that are beautifully browned on the outside, yet moist and juicy on the inside. The oven's special settings make it easy to proof breads, rolls – even homemade pretzels and donuts.
6. Igloo Products Corp., the nation's largest cooler manufacturer, has introduced a new line of back to school lunch coolers appropriately named "Creatures."The brightly colored line
centers around four characters: Tango, Oggli, Razz and Phizzt. Each character is fun and different. Tango loves music, art and dance, while Oggli is a writer at heart, Razz is the athlete and Phizzt is a cute, little mad scientist. The lunch coolers have molded EVA faces unique to each character, neoprene exteriors and "Creature Features" like arms, legs, tentacles or wings attached. Side water bottle pocket and carry handle with clip and snap bungee to attach to backpacks. Leak-resistant, easy to clean, anti-microbial liners. Available at retail in July of 2013; $14.99.
7. Black porcelain? Yes, that's what you'll get with the Revol Porcelain Slate.  The slate is part
of the Basalt Collection (or, called black porcelain)  This collection combines the aesthetic qualities of slate and the advantages of porcelain.Unlike natural slate Basalt does not scratch and does not crumble. Nonporous, it does not absorb oil or bacteria and is therefore easy to clean.  This collection will allow you to serve your hors d'oeuvres, appetizers, entrees, cheeses and desserts without any risks, all the while retaining the noble and natural look of slate. A
8. Delight the kids with the Swissmar Snack Pocket. Colorful and fun to use, the Snack Pocket is designed to hold snacks on the edge of cups, mugs and bowls. Fill them with
goldfish to let swim in your soup, or add mini marshmallows for hot chocolate, the snack pockets keep things clean and contained, while adding a bit of fun. We found that they're also great to use for holding the teabag once tea is steeped. If you'll be sipping from the cup (and not through a straw), the snack pockets can stand along on the table, keeping watch over you. They retail for $9. www.swissmar.com.
9. More fun for kids and adults alike is the Zoku
Slush & Shake Maker.In as little as 7 minutes, you can make delicious slushies, milkshakes and frozen alcoholic drinks using blended fruit, homemade juice from juicers, malted milk sweetened coffee, soda egg nog and more. To use, remove the frozen inner core from the freezer, and place I the outer sleeve. Pour in the ingredients, mix and scrap the cup with the included spoon, and the slush freezes before your eyes.
10. These Walnut Shell Scouring Pads from Full Circle Home almost make me look forward to cleaning the dishes. Walnut shells have
scrubbing power, and this natural and durable abrasive is ideal to use on countertops and sihs – and also does a bit for the planet as well. The plant-based cellulose sponge is absorbent and durable, while the abrasive side is made from – you guessed it- walnut shells! Effective on even the toughest jobs but won't scratch non-stick cookware. Plus, it's much easier on the earth than those other sponges we've usedThe pads com packaged 3 to a pack and retail for $3.99.
11. Just because I know how to use chop sticks
doesn't mean I won't grab these delightfully fun Chomp Stix. Available from HIC – Harold Import Company, the Chomp Stix are made from FDA-approved polypropylene and are a durable and long lasting was to get kids to chomp on everything from berries to sushi. Made in the USA, Al (the gator), Chum (the shark) and Teri (the sailfish) will add some fun to snack and mealtime.
12. Heads will turn when I cool a highball with one of these 2 ¼ square-inch ice cubes. The Colossal Ice Cube Molds from Tovolo create large ice cubes which melt much slower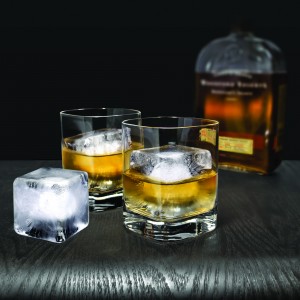 than traditional cubes, to keep drinks colder longer and preserve the quality of the drink for a longer period. The leak-resistant silicone mold is designed to stack upright in the freezer, and is dishwasher-safe.

Print Friendly